What Did We Learn This Month?
 Fitness
March 2015
What is Happening with Fitness magazine?
I am not sure if you all have heard but Meredith Publishing bought Shape magazine so Fitness starting in May will be digital-only. That means this will be the next-to-the last issue of Fitness reviewed on this Blog. This is a sad day but let's be grateful that we will still get new content from the editors in the future—it will just be online.
Anyhoo—let's talk about the March issue which is on newsstands now!
What Do We Learn This Month in Fitness?
"Chisel and Zizzle"
I am dying to learn how to use ropes in my classes so I loved this express workout from Gold's Gym trainer Adam Friedman that give six moves using ropes.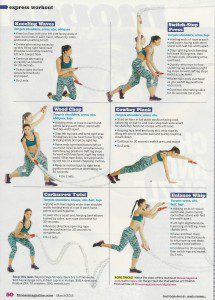 "Hot Stuff: The Goods We're Obsessing Over Now"
Fitness has a whole page here filled with cute gear that gets me excited for Spring. The Cole Haan slippers are especially divine!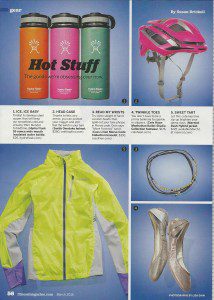 "Go Vertical"
If you are looking to kick up your workout—try taking the stairs. Here we get two options (staircase vs. stairclimber) to get in a quick workout that gives fast results from Chris Powell.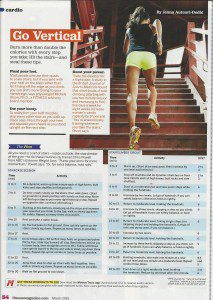 "In the Hot Seat"
Four years ago I attempted a big change in my life by working at a standing desk (plus my wobble board to work on my core!) Sitting for hours a day is KILLING us and we need to act now in order to prepare office workers in the future.
Check out some of these options to make your office healthier!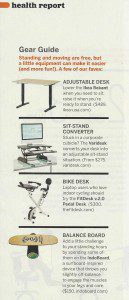 And now the rest of this issue of Fitness:
"Fake Wide Awake" I love lotions and potions and lately my skin has been looking dull so I liked this feature offering ideas to brighten my face.
"Get a Fierce Physique" Trainer and author Adam Rosante offers an excellent workout here that you can do very quickly and see results in no time.
Overall Grade:
B+ Some really great workouts are featured here (just wish they had more features!)
You can follow Fitness magazine at www.fitnessmagazine.com
(If you are reading this on a different site or a different feed than Brooklyn Fit Chick, it has been taken without permission.)
Until next time…
Ox Ox,
BFC
Brooklyn Fit Chick
Follow me on Twitter: "BrooklynFitChik" (note the spelling!)
Instagram: BrooklynFitChick
Pinterest: BrooklynFitChick
You Tube: BrooklynFitChick1