What Did We Learn This Month?
 Shape
March 2015
Shape Cover Star for March 2015:
OMG—have you checked out Kate Hudson's abs? Wow! The 35 year-old actress added entrepreneur to her list of titles after creating the incredibly cute workout line Fabletics. Kate is a big fan of exercise and has lately been replacing her Pilates/Yoga routines for TRX and boxing to mix things up.
She also own her own chickens and eats her very own eggs most mornings. Kate also believes in enjoying that glass of wine and life's little treats in moderation. (Can I switch lives with Kate Hudson?)
What else is in this issue of Shape?
"Look Hot from Every Angle"
I am a core instructor and am always needing different moves to teach my students and keep them engaged. I loved this workout from Madison Doubroff of Bionic Body in Hermosa Beach, CA.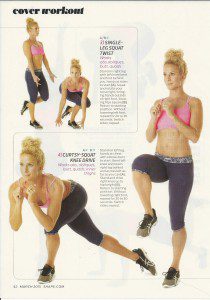 "Speed Sculpt with Sand"
One of my big goals is to integrate sand bags into my classes and when I finally do (let this be my public statement!) I will steal every single one of these exercises from the Elimin8tor workout from Equinox.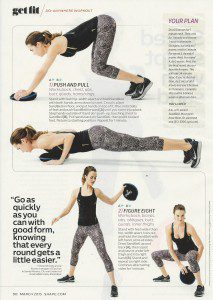 "Quickie Metabolism Boost"
Who doesn't want a metabolism boost? Here is a 20-minute workout filled with tough intervals that will torch calories and keep you motivated during this hellishly long winter.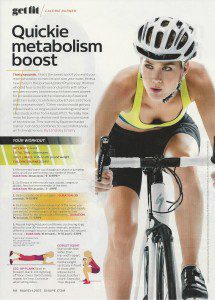 "Essentials That Make a good Run Great"
I am not much a runner but when I see gear like this GPS watch from Timex IRONMAN ONE GPS which will set you back 400 clams (yikes!) it makes me want to actually, you know–run.
The Asics bra they also feature is so terribly cute but might be a little too low-cut for me. (Does anyone else have an issue with bras that show too much cleavage?)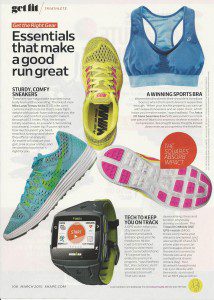 "9 Moves to a Knock-Out Body"
To be totally honest—I tried kick boxing several times and always hated it because I never feel like I am having fun with it. However, after reading this article where Shape talked to several experts in the field I am rethinking this whole thing. Plus, the workout featured looks like a total butt-kicker!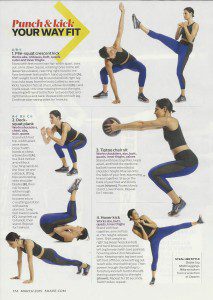 And now the rest of the best of this issue of Shape:
"A Week of Fitness Fashion" Shape puts together a week's worth of totally cute workout outfits that will keep you inspired to go to the gym.
Follow Shape magazine online at: www.Shape.com
Overall Grade:
A- What can I say? I liked this issue–it was good!
(If you are reading this on a different site or a different feed than Brooklyn Fit Chick, it has been taken without permission.)
Until next time…
Ox Ox,
BFC
Brooklyn Fit Chick
Follow me on Twitter: "BrooklynFitChik" (note the spelling!)
Instagram: BrooklynFitChick
Pinterest: BrooklynFitChick
You Tube: BrooklynFitChick1