Brooklyn Fit Chick News & Notes
Fit Bottomed Girls "Exercises I Ditched & What I Do Instead," Terry Bikes "Urban Hoodie" Review, Looking for "BFF" Song Suggestions
My Top 5 Favorite Podcasts & "Book vs Movie" Podcast The Outsiders!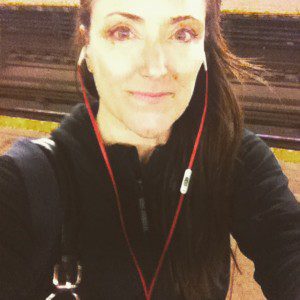 Hey there! Hi there! Ho there!
How are you all doing today? I am writing this down on Easter Sunday and I am feeling all kinds of wonderful & anxious at the same time (which is pretty natural for me.) The fact that spring has FINALLY, you know, sprung is making me smile but I am also worried about some friends and family which I am trying to funnel in a healthy way by alternately upping the intensity of my workouts and also trying really hard with incorporating meditation into a daily practice. Do any of you meditate? Any advice for an anxious newbie like me who has a hard getting her thoughts to NOT swirl when under pressure. Thanks in advance! Now let's get to the latest news & notes, shall we?
Brooklyn Fit Chick News & Notes
Tips from the Trainer Pros on "Exercises I No Longer Do & What I Do Instead"  Tuesday mornings I teach a boot camp class which is designed more like an old-school calisthenics class rather than a whistle-blowing jerk yelling at people to do more push-ups kind of thing. One move in my arsenal was having my students bear crawl in one direction across the basketball court and then bear crawl back.
One day I was asked "what does the crab walk really DO anyway? It always makes me wrists & shoulders hurt." I realized unlike a bear crawl which engages multiple muscle groups and mimics activities like leaving a cab or going up the steps at the subway—the crab walk while challenging to the core really has potential to cause more harm than good. It made me think what other moves other trainers I respect have "ditched" over the years which turned into an article I wrote for Fit Bottomed Girls.
So what exercises have YOU ditched over the years?
Terry Bikes Spring Gear: Last year I cold-called the women who run Terry Bikes and asked them if they ever needed a brand ambassador—well no further than with moi! I love their gear and am so happy to be able to share with you some of my most favorite items from their collection. Well today I want to talk about their Urban Hoodie which I have been wearing everywhere this past week as I was finally able to ditch my parka (off to the cleaners you filthy, annoying thing!). The hoodie fits snuggly in a fabric that whisks away moisture and keeps you warm. If you need something more than a jacket but less than, well—a parka the Terry Urban Hoodie is a delight. I took a picture of myself in it that you can see up top!  (Love!)
BFF Songs—I Need Your Suggestions! For Fit Bottomed Girls I am putting together a list of songs that help people remind them of their best friends. Just between up—I am coming up dry with ideas! So if you have any suggestions for BFF Workout tunes please feel free to list below. Thank you in advance!
My Fave Podcasts: For me, the best way to unwind around the house is to listen to podcasts. It's like hearing stories from super-witty people in my living room & kitchen while I dust, clean and feed the cats. So today I wanted to offer some of my personal faves (no mention of Serial because it is in hiatus right now but if you have not heard of it—download them right now!)
What are your favorite podcasts? Let me know!!
And speaking of podcasts–
Book Vs Movie Podcast: Margo Porras of Shes Nacho Mama's Blog and I are talking about The Outsiders on our next episode—weeeeeeeeee!!  (You subscribe to us on iTunes with this link https://itunes.apple.com/us/podcast/bookvsmovies-podcast/id954110320?mt=2.)  We also have a spiffy new website– http://www.bookversusmovie.com/ so come check us out sometime.  (Next episode full of Rob Lowe swooning will be available next weekend!)
That's all I have for today—keep checking back for news, reviews and playlists aplenty! Thanks as always for dropping by!
(If you are reading this on a different site or a different feed than Brooklyn Fit Chick, it has been taken without permission.)
Until next time…
Ox Ox,
BFC
Brooklyn Fit Chick
Follow me on Twitter: "BrooklynFitChik" (note the spelling!)
Instagram: BrooklynFitChick
Pinterest: BrooklynFitChick
You Tube: BrooklynFitChick1