What Did We Learn This Month?
 Fitness
April 2015
Hey Gang! Just in case you still have not heard the news but very soon Fitness will be digital-only so this will be one of the last times I will be reviewing it in print form. (Sad Panda alert!)  I am most unhappy to see the magazine go away but very grateful that we will still get some excellent content them from them online.
Anyhoo—let's talk about the April issue which is on newsstands now!
What Do We Learn This Month in Fitness?
"Built for Speed"
This looks like an excellent strength circuit from As One Fitness (the trainer is George Vafiades) designed to help with muscle imbalances. Perfect for runners & cyclists and it only takes 20 minutes!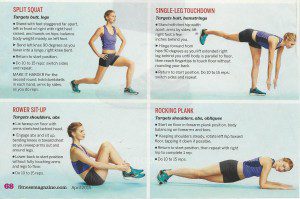 "Ladies Who Crunch"
Did you know that working moms are less likely to workout during the day than working dads because of the primping time it takes after a sweat session? (I can totally relate to being worried about looking a hot mess afterwards.)
Here we get a super quick (5 minutes) circuit developed by Mike Strevel from DavidBartonGym Limelight where you try to do any many reps as possible or AMRAP.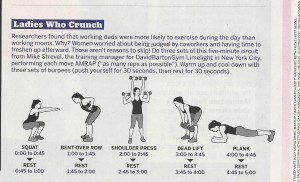 "Trim in 20"
I am sensing a theme here—quick workouts are better than no workouts at all and this one from Brett Hoebel (The Biggest Loser Season 11) requires just a band to get your heart rate up.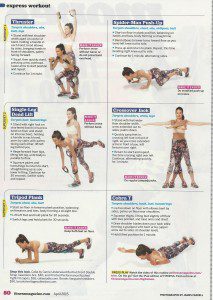 "Soothe Moves"
If you suffer with tight hamstrings and a general lack of flexibility (meekly raising my hand here) these "four essential stretches for runners" from yoga instructor Tiffany Cruikshank should be added to your stretching repertoire.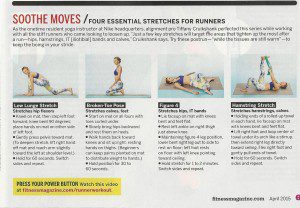 And now the rest of this issue of Fitness:
"Time Flies" I have had the same Polar watch for years now and think it's time to trade it in for something jazzier. Fitness offers quite a few suggestions here that give me the "I wants."
"Run Stronger Run Longer" Spring has sprung which means it is time to get some new running shoes and there are tons of great options featured here.
Overall Grade:
A  Excellent workout ideas plus some fun shopping pages made me happy this month!
You can follow Fitness magazine at www.fitnessmagazine.com
(If you are reading this on a different site or a different feed than Brooklyn Fit Chick, it has been taken without permission.)
Until next time…
Ox Ox,
BFC
Brooklyn Fit Chick
Follow me on Twitter: "BrooklynFitChik" (note the spelling!)
Instagram: BrooklynFitChick
Pinterest: BrooklynFitChick
You Tube: BrooklynFitChick1