Brooklyn Fit Chick News & Notes
"Book vs Movie" Podcast News (The Stepford Wives)
Drill Fitness Studio (NYC)
Meeting "The Hungry Girl" at the StarKist Event
Looking for a Deep Tissue Massage Expert!
Plus: Enter to Win the "Pure Barre" DVD Giveaway
Hey there! Hi there! Ho there!
Happy spring everyone! It makes me so happy to finally experience warm weather and sunshine after months of the cold and dreariness of winter not wanting to leave my part of the world. Ask anyone on the east coast and they will say that this year our weather has been less than desirable and kind of sucky most of the time. Yet today it all feels like a lifetime ago and for that I am grateful. This week I have some quick news & notes plus a cool Pure Barre DVD giveaway so let's get to it, shall we?
Brooklyn Fit Chick News & Notes:
Book Vs Movie Podcast News: Margo Porras of Shes Nacho Mama's Blog co-host the "Book Vs. Movie" podcast (that you can subscribe to via iTunes at this link) and our next episode will be The Stepford Wives which will "drop" next weekend. If you have any interest at all, please be to check out our new website (www.bookversusmovie.com) "like" us on our Facebook page and follow us on Twitter @bookversusmovie. (How is THAT for a hard sell?)
We are planning our next episodes so if there are any books & movies you want us to cover—feel free to comment below!  We love getting ideas from "the people."
Drill Fitness NYC: As a fitness instructor it is always a privilege to take classes from my peers to learn how I can do my job better while getting in a kick ass workout. Recently (whilst on assignment for Fit Bottomed Girls) I was lucky enough to try out this chic new studio in Tribeca called Drill Fitness where they mainly teach spin & bootcamp-style classes. They have one of those fancy spin rooms with stadium seating and monitors so you can see your progress up on the screen. I say check it out for yourself!
I plan on including them in a roundup of new studios around NYC so feel free to share your suggestions for me in the comments below!
The Time I Saw "The Hungry Girl" at the StarKist event: This past week I attended a StarKist tuna event where they unveiled a few of their newest flavors coming out in the fall. (My favorite is Bacon Ranch—yum!)
Upon arrival I noticed the really cool nostalgia items from StarKist: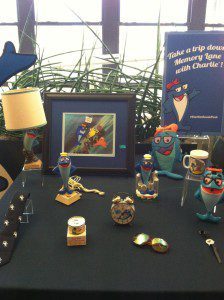 The evening's super special guest star was none other than Lisa Lillien aka The Hungry Girl whom I caught taking a selfie with "Charlie" himself!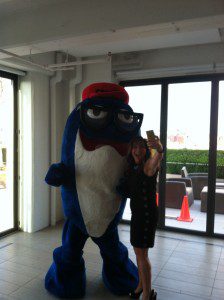 Lisa was there to promote her brand new "The Hungry Diet Cookbook" and yes indeed I snagged a signed copy! (Thanks Lisa!)
I Need a "Deep Tissue Massage" Expert! This is call-out for help! I am working on a piece about what to expect from your first deep tissue massage and I need an expert to give me tips & advice. Is this you or someone you know? Please leave a comment below if so! (Merci in advance…)
Pure Barre Pure Results DVD Package Giveaway: Are you both a fan of barre workouts but can't seem to get to the local studio as often as you like? Well then you are in luck because this week I am giving away a groovy package from Pure Barre Results to one lucky reader. (This is not a sponsored giveaway and is only available in the Continental U.S.)
This is what you can win!
Pure Results Two DVD Package (including a pair of Pure Barre's signature sticky socks, double tubing, and one year HD streaming access to both workouts) – $64.95
Details:
Achieve "Pure Results" at home or on the go! This package includes two DVDs, each featuring a 60 minute complete Pure Barre workout designed to tone and strengthen each major muscle group in your body, including arms, thighs, seat, and abs. You will also receive a pair of Pure Barre's signature sticky socks, double tubing, and one year HD streaming access to both workouts.
You will access your streaming workouts from the "my videos" link in your account profile on the Pure Barre online shop. These videos will show up in your account automatically after you successfully checkout. You will be able to view these on any of your devices, so long as you have an internet connection and access to a browser to view and play.
Total retail value of this package is $181.80 so you are receiving more than $115 in savings! Equipment Recommended: Exercise mat, set of light weights between 2-5 lbs, double tube, stable support surface to utilize lightly for balance.
Follow than on Facebook here
Also follow on Twitter
If you want to win the Pure Barre DVD Package giveaway you must do the following (Continental United States only, please!)
Post a comment below (on this post) letting me know you are interested.
Send a comment on Twitter and say "I want to win the Pure Results package @Pure_Barre from @brooklynfitchik"
If you haven't already—let me know you are subscribing to my You Tube channel
I will pick one winner at random on Monday, May 11, 2015 at NOON Eastern Time and contact them directly. Good luck!
(If you are reading this on a different site or a different feed than Brooklyn Fit Chick, it has been taken without permission.)
Until next time…
Ox Ox,
BFC
Brooklyn Fit Chick
Follow me on Twitter: "BrooklynFitChik" (note the spelling!)
Instagram: BrooklynFitChick
Pinterest: BrooklynFitChick
You Tube: BrooklynFitChick1