What Did We Learn This Month?
 Women's Health
May 2015
Women's Health Cover Star for May 2015: 
Confession time—the one and only episode of How I Met Your Mother I ever viewed was the last one. Let's just say I was terribly confused over the different characters and their motivations but thought the woman who played "Robin" was not only funny and but also a great actress.
Cobie Smulders is featured in the new The Avengers: Age of Ultron movie which I am pretty sure will make a few bucks over the next few weeks. Cobie posed for the cover of this issue less than two months after giving birth to her daughter (holy smokes!) and reveals in the magazine she was diagnosed with ovarian cancer when she was just 25-years old (wow!)
Cobie is very heathy these days and appreciates her new life in New York City with husband Taran Killam of Saturday Night Live (!!) and her two daughters. She keeps in shape with Soul Cycle and Pilates and tries to enjoy a good serving of mac and cheese when she can.
So what else is in this issue of Women's Health? 
15-Minute Workout "Step up to Sexy"
I know you might find this hard to believe but I know LOTS of people who still love cardio Step workouts after all of these years. Me—I think they are terrible for your knees and hips but the equipment can be very useful for other types of training and this workout from Amber Edwards of Equinox is pretty solid.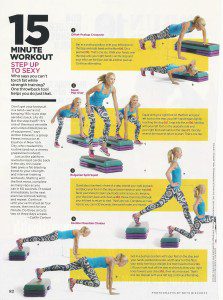 "Women's Health Fitness Awards"
Women's Health picked the best of the best in fitness gear including treadmills, trackers, tanks, ear buds. Water bottles, running shoes and sport bras—which is the one piece of equipment that most women neglect and drives me crazy! (You are tearing muscle fibers when you let them loose!)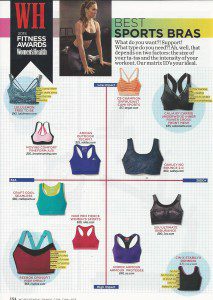 "Hang Tight"
You want to gain strength quickly—try a suspension workout. This one featured here is from Todd Durkin of Fitness Quest 10 gym in San Diego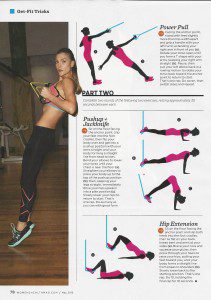 And now the rest of the best of this issue of Women's Health:
"Having a Moment: Bone Broth" Most of my Paleo friends are insane for bone broth and show pictures constantly of their latest concoctions. Anyhoo—Women's Health explains the benefits to bone brother in all of its glory here.
"Forces of Nature" I cannot believe it is May already and I have NOT made vacation plans yet. Well in this section you get 50 suggestions for healthy-type vacays you can enjoy either on your own or with a crowd.
Overall Grade:
A  I really like meeting Cobie Smulders, the workouts are top notch and the information is solid. Get the May issue!
You can check out Women's Health online as well: www.WomensHealthMag.com
(If you are reading this on a different site or a different feed than Brooklyn Fit Chick, it has been taken without permission.)
Until next time…
Ox Ox,
BFC
Brooklyn Fit Chick
Follow me on Twitter: "BrooklynFitChik" (note the spelling!)
Instagram: BrooklynFitChick
Pinterest: BrooklynFitChick
You Tube: BrooklynFitChick1