Brooklyn Fit Chick News & Notes
"Book vs Movie" Podcast News (Valley of the Dolls)
My Fit Bottomed Girls "00s" Playlist
Eating Chocolate to Lose Weight Exposed as a Bogus Study
EleVen by Venus Discount for My Peeps (Meaning You!)
Hey gang!
I am slowly getting back into the blogging groove but I wanted to just poke my head in and say "hi" and rest assured I will have the giveaways back on my Blog soon.
Brooklyn Fit Chick News & Notes:
Book Vs Movie Podcast News: Margo Porras of Shes Nacho Mama's Blog co-host the "Book Vs. Movie" podcast (that you can subscribe to via iTunes at this link) and this past weekend we recorded a super fun episode talking about Valley of the Dolls. I have the link below if you want to check it out for yourself. If you have any interest at all, please be to check out our new website (www.bookversusmovie.com) "like" us on our Facebook page and follow us on Twitter @bookversusmovie. (Thank you for letting me plus!)
We are planning our next episodes so if there are any books & movies you want us to cover—feel free to comment below!
Fit Bottomed Girls Playlist: Recently I was feeling nostalgic for the early 2000s and asked my editors at Fit Bottomed Girls if I can create a playlist (link here) devoted to the "flip phone" decade and this is what I came up with (hope y'all like it!)
The "Chocolate Diet Hoax": Science journalist John Bohannon was tired of reading badly researched medical studies and "wonder diet tips' get media attention so when he was approached by a German TV producer to come up with a fake story (how eating chocolate actually aids in weight loss) he jumped right on board. Sadly the very phony report was picked up by top publications around the world including Shape and Prevention.
Bohannon has a Ph.D. in molecular biology and once participated in a sting operation showing some "open-access journals" will publish any story for a fee.  You must check out this interview on CBS News where he really lets the reporters he really feels about most of the health & wellness articles in the press. (He is NOT a fan)
Now My "Big EleVen Discount" for Y'all
Most of you are aware of Venus Williams and her amazing tennis career but did you know that she is also an amazing fashion designer? Well she is and studied at the fashion program at the Art Institute of Fort Lauderdale to learn about pattern making and merchandising her own fitness brand.
You can check out her workout collection EleVen by Venus but some of my new favorites include her Ndebele Spring Collection which includes this yummy top (Ready to Play tank)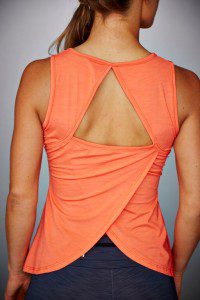 As well as her Summer Fleur du Monde collection and this gorgeous "double cross" tank.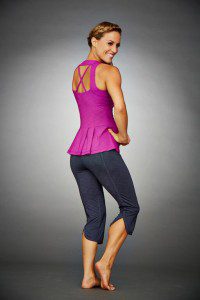 The best news is this—if you are interested in shopping from the collection you can receive a 10% discount using the following code at checkout "Team11MargoD" You're welcome and happy shopping!
Well that is all for me today. I will be back soon with playlist, magazine reviews, giveaways and so much more coming soon.
(If you are reading this on a different site or a different feed than Brooklyn Fit Chick, it has been taken without permission.)
Until next time…
Ox Ox,
BFC
Brooklyn Fit Chick
Follow me on Twitter: "BrooklynFitChik" (note the spelling!)
Instagram: BrooklynFitChick
Pinterest: BrooklynFitChick
You Tube: BrooklynFitChick1