What Did We Learn This Month?
 Shape
June 2015
Shape Cover Star for June 2015:
Jessica Alba is on the cover and is basically taking over the world with her eco-friendly products company "Honest" that is worth an estimated $1 billion! Jessica began her company (funded partly by her earnings as a top movie star) just three years ago and thinks a billion seems kind of puny compared to what she feels is truly possible in the marketplace.
If you are wondering how she stays in such amazing shape even though she admits to hating exercise—try 105 degree yoga sessions with light weights.
(Must try that workout soon!)
What else is in this issue of Shape?
Surfer Workout
A few weeks ago I took a ride out the Rockaways and spent some time admiring the surfers take on the Atlantic Ocean. If you have ever tried to surf you know it is an activity that will challenge your balance and core strength.
Trainer Adam Rosante offers this workout to help you get ready to "hang 10" or whatever it is those crazy surfing people do on those boards!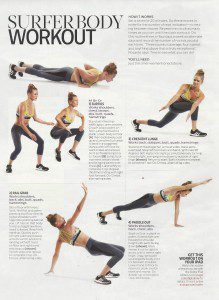 "Cycle in Style"
As a cycling freak this page gives me a big case of "the happies."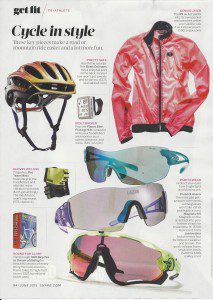 "Tone All Over"
You know I will be stealing some of these workout moves from celebrity trainer Autumn Calabrese into my next core classes. Think strength moves that help you bust through any plateaus going on in your fitness routine.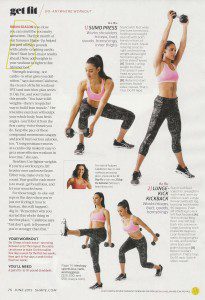 And now the rest of the best of this issue of Shape:
"Go Outside and Ride!" Shape gives you the lowdown on road, mountain and trail riding to get you back on your bike.
"Pump Up Your Run" If you are getting burned out from your usual running routine they have some options here to get you motivated all over again. (Now go run!)
"Active Adventures" If you want to fit in an outdoor exercise while on your next vacation—try out some fun suggestions here.
Follow Shape magazine online at: www.Shape.com
Overall Grade:
A Overall we have a good summer read here!
(If you are reading this on a different site or a different feed than Brooklyn Fit Chick, it has been taken without permission.)
Until next time…
Ox Ox,
BFC
Brooklyn Fit Chick
Follow me on Twitter: "BrooklynFitChik" (note the spelling!)
Instagram: BrooklynFitChick
Pinterest: BrooklynFitChick
You Tube: BrooklynFitChick1