What Did We Learn This Month?
 Women's Health
September 2015
Women's Health Cover Star for September 2015: 
Confession time—I have never seen one episode of Keeping Up with the Kardashians. I know they are insanely famous for…um, going to places well-dressed? I am also aware as a social media person that all of the K's (Kim, Kourtney, Kendall; Kylie, Kris and the Women's Health cover gal Khloe) have millions of followers on Twitter, Facebook, Instagram, etc.
Brands pay them for every retweet, repost and shout out whilst they traverse the globe in an array of outfits.
Yet I have NO idea how to differentiate any of the girls except for Khloe who is taller and tougher looking than the rest of the K's. She always looks fierce and ready to have a great time or kick ass at any moment.
Something tells me Khloe and I could be friends so I am happy to hear how she gets healthy. The woman looks amazing on the cover (not a stick figure and sculpted) and I want to give her a chance.
The first page of the interview I could not read because they printed it with a wheat field background. Look for yourself!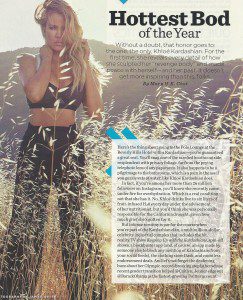 (Hmm, the scan seemed to do the trick. If you can't read your copy just scan the page I guess!)
But the rest of the interview taught me that after her father passed away when she was a teenager she turned to food and alcohol to cope. The press has teased her for years for being a big girl and it messed with her self-image. Working out helps Khloe manage her stress levels and maintain a positive outlook.
Inside the magazine she offers some of her favorite workout moves from her trainer Gunnar Peterson. (Check it out here)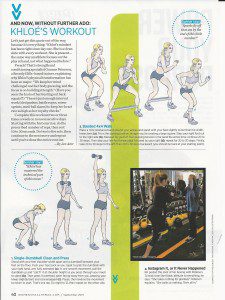 So what else is in this issue of Women's Health? 
"Urine Trouble" (See what they did there?)
All kidding aside this is a helpful chart for any urinary tract issues you may have in your lifetime.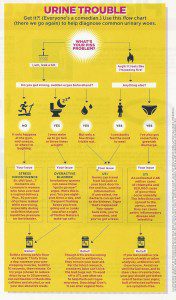 "15-Minute Workout: Blast Your Upper Half!"
A couple of years ago I was lucky enough to take a class with Ashley Borden at Fitbloggin in Savannah and was impressed with her ability to relate to the crowd. She loves teaching and fitness so I am happy to help promote her workout featured in this issue.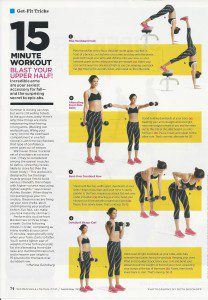 "Sneaks on Fleek"
Marathon season continues the next few months so if you are looking for some new gear—check out this page. (Now will someone please tell me what the heck "fleek" means and why I should" be "on" it? Merci in advance!)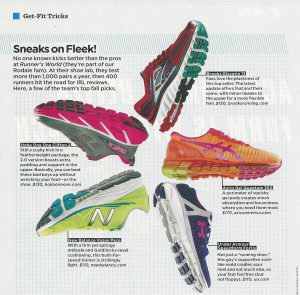 "Hot Fall Fashion"
The September issue is a flip one where one half is all about fitness and the other is all about fall fashions. According to Women's Health culottes will be making a comeback?
What do you think of that? I love the 70s aesthetic but these not long or short pants leave me confused.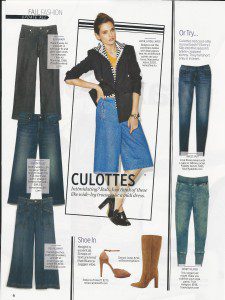 And now the rest of the best of this issue of Women's Health:
"New Rules of the Weight Room" Rule number one should be "Do NOT answer your cell phone in class!" Someone did just that this past Saturday and I am still steaming about it. #rude
"Your Body on Antioxidants" What the hell do they actually do anyway? Find out in this issue on page 88.
Overall Grade:
A-  Great issue with good workouts though once again I want more of them!
You can check out Women's Health online as well: www.WomensHealthMag.com
(If you are reading this on a different site or a different feed than Brooklyn Fit Chick, it has been taken without permission.)
Until next time…
Ox Ox,
BFC
Brooklyn Fit Chick
Follow me on Twitter: "BrooklynFitChik" (note the spelling!)
Instagram: BrooklynFitChick
Pinterest: BrooklynFitChick
You Tube: BrooklynFitChick1