Brooklyn Fit Chick News & Notes:
 "Book vs Movie" Podcast Episodes: The Bad Seed & The Silence of the Lambs
TomTom Spark Cardio & Music GPS Fitness Watch
Ryka, Under Armour and Brooks Running Events
"Hello Fresh" Meal Delivery Service
The Hamstring That Decided to Go Ow! (Belle Fit Body Buffer)
"The Ultimate Madonna Vs. Lady Gaga Playlist"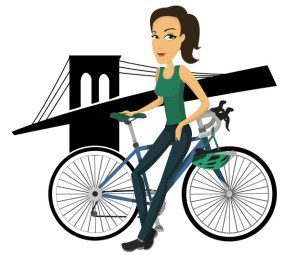 Hey there! Hi there! Ho there!
I am so sorry for my lack of posting lately—this past month I have been very busy with new clients (thankfully,) tons of fitness events to cover for Fit Bottomed Girls (my homies,) a hamstring strain that has baffled me, a delivery service to try out (which was amazing,) playlists to put together (they do not create themselves) and miles to go before I sleep. (A literary reference but also the truth—I am having major sleep issues lately–grrr!)
Well I am back and ready to talk about my latest news and notes for you beautiful people. So let's get to it, shall we?
Brooklyn Fit Chick News & Notes:
Book Vs Movie Podcast News: Margo Porras of She's Nacho Mama's Blog and I co-host the "Book Vs. Movie" podcast (that you can subscribe to via iTunes at this link) and for the Halloween spooky season we decided to cover a couple of classics for horror fans. William March's The Bad Seed and Thomas Harris' The Silence of the Lambs which we are really proud of.
It's funny how you do something just for the love of it and to release some creative energy out to the world and then you get pretty good at it! We produce, edit and promote every episode out of joy for books and movies and now we are getting thousands of downloads a month. Whoa!
(Does this sound like I am bragging?  I hope not! I'm just excited about our journey.)
If any of you out there want to learn more about podcasting and how it can help expand your brand—let me know!
What are your favorite books to movies adaptations? I want to hear about them in the comments below!
Fitness Events a Plenty: I am the NYC reporter for Fit Bottomed Girls.com and because of that I get to attend many cool events and this past month has been some of my best yet. Such as…
TomTom Spark Cardio & Music GPS Fitness Watch Event: Are you familiar with TomTom products? They have GPS systems on the market and are mainly based in Holland and Boston which I think is really cool for some crazy reason.
Well, they are now entering the world of fitness by creating GPS watches that will hold up to 500 MP3s, can sync with your playlists, count your steps and calories, offer coaching which you can use with Bluetooth headphones, help you train for marathons, cycling, swimming, the treadmill and more. Plus, it is waterproof!
You can read an early review of the TomTom Spark Cardio & Music GPS Fitness Watch from Backcountry.com and here is a look at it as it appears on my arm right now.  It sits right next to my Fitbit jewelry from my new client Bezels & Bytes and I plan to use both in my training for the new few months and will report on it soon.
The event included a super fun workout that I could participate in as my hamstring was bothering me so I took a picture of the room with my fellow fitness peeps and it turns out my Blogger buddy Nicole of Fitfulfocus.com was sitting on the floor in green tights right in front of me and I totally missed her! You can see her for yourself here (Nicole–I will make it up to you!)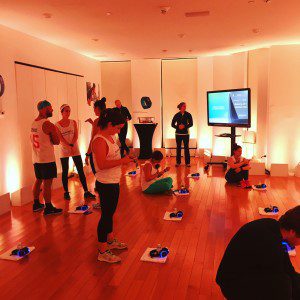 Rykä Kinetic: The makers of the women-only fitness gear brand trotted out some of their upcoming spring and summer collections and gifted me with the Kinetic trainer which I plan to break in this week. The pink box attracted my kitty (Sweet Sarah) and I have to let all you fitness pros know that you can earn tons of discounts with them by joining Ryka fit so get right on it! (Photo of Kinetic and Sweet Sarah)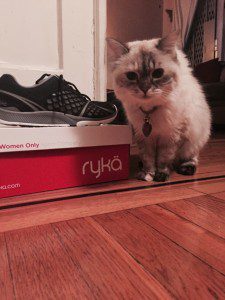 Under Armour: I love this brand for their tech gear and beautiful style and their upcoming collections do not disappoint. I will post a Spring trends feature soon enough but in the meantime I got this lovely chunky knit collection as part of my goodie bag. (Thanks Under Armour!)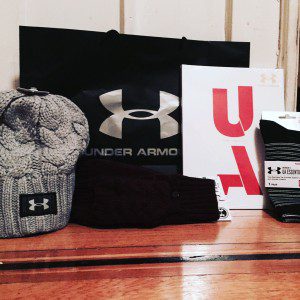 Brooks Running: I had three events in one night to go to and I was cranky, hungry and tired when I checked out the upcoming 2016/2017 collections for Brooks Running (THE running shoe brand I hear about most from my marathon loving peeps.) Loved everything I saw and begged for samples which hopefully I will get to try out soon for a gear roundup.
They had an artist at the event as well creating an artwork designed to honor NYC runners. They asked me what is my favorite part of the NYC marathon I told them it was cheering on all of the participants so they included it into the piece—see!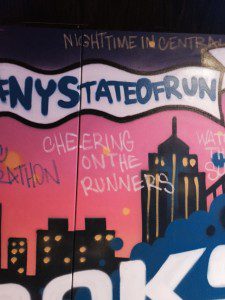 Hello Fresh As part of my upcoming piece on how to keep your New Year's resolutions by using a food delivery service plan and I was keyed into Hello Fresh as they are the largest home food-delivery service globally, which offers subscribers a variety of delicious and healthy meals made of farm-fresh, seasonal and locally-sourced ingredients – all pre-measured and conveniently delivered to their doorsteps. They work with the country's best purveyors to deliver premium quality ingredients in every box.
I loved my first meals with them including butter-braised chicken with thyme roasted carrots. Will let you know when that feature runs in January!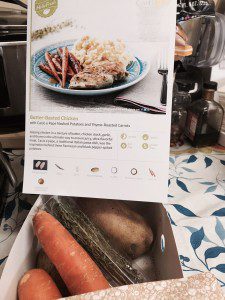 Hamstring Trouble: After years of cycling way too many miles and looking for every reason in the world to NOT take regular yoga classes I finally have a repetitive motion injury—a strained hamstring. People, I am in pain! For the last few weeks I have been icing and stretching it as best that I can but one day (in a pouty mood) I mention on Twitter my injury and the reps from BelleCore Body Buffer got in touch with me to try out their product to see if it could help me.
The Baby Belle Fit is an easy-to-handle massager that enhances stretching, soothes sore joints, warms up the muscles and help speed muscle recovery. I was a little dubious if it would work (you only need to use it for five minutes tops per muscle group) but guess what—it did help! I have been using it twice a day for the last week (morning and night) on my hamstrings and my IT band and am very happy with the results so far. I will discuss more in a future column talking about how to recover from injuries but for those of you creating a "wish list" for the holidays—this could be a dream gift for many of you!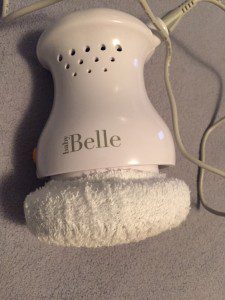 Lastly today—I wanted to pass along my newest playlist for Fit Bottomed Girls—the Madonna vs. Lady Gaga showdown. If you are a fan of either of them, let me know what you think. Also—send me song ideas because  I need to jazz up my playlists. Thank you in advance!
Oh well, that' all for me this week. I will be back soon with magazine reviews, playlists, reviews and so much more. Later gators!
(If you are reading this on a different site or a different feed than Brooklyn Fit Chick, it has been taken without permission.)
Until next time…
Ox Ox,
BFC
Brooklyn Fit Chick
Follow me on Twitter: "BrooklynFitChik" (note the spelling!)
Instagram: BrooklynFitChick
Pinterest: BrooklynFitChick
You Tube: BrooklynFitChick1