What Did We Learn This Month?
 SELF: October 2013
For those of you keeping score, I "broke up" with SELF magazine a few months ago and all of my reasons were stated in my "cri de coer" post this past September. After being a loyal reader for many years I felt that the new look and editorial was aiming too young and low brow. That they were reaching so far to appeal to 20-somethings that they forget about their core reader loves health & fitness and wants to add to their knowledge base.
Well I have to admit that the October issue is a vast improvement upon the last few issues (I have not reviewed SELF since May) and I am happy to feature them on my Blog. Woo hoo! Now, keep it up SELF! Don't make me shun you again!
SELF Cover Star for October:
Lucy Hale
I have NO idea who she is but for some reason I follow actress Lucy Hale on Instagram. (She seems totally cool and adorable by the way.)  Lucy's trainer (Bryna Carracino) keeps the Pretty Little Liars star in shape with a series of "static holds" which you can see below. Her personal record for a chaturanga is two minutes seven seconds which is pretty damn impressive!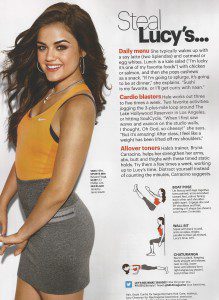 So What Else is in the October SELF?
"I Have a Strong, Athletic Body. I Wish I Loved It"
Here we get an essay from badass squash champion Ivy Pochoda who works hard to stay in shape but gets rude comments about her "mannish" legs. I want to give her a hug and let her know she is a phenomenal woman and not to give in to the body-shaming haters. (Screw them! You are awesome & fierce!)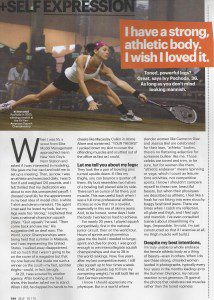 "Master Class"
CrossFit Coach Megan May shows how to perform a righteous dead lift.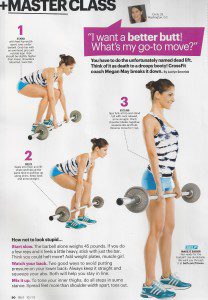 "Shopping Special"
SELF started the whole "pink ribbon" campaign for breast cancer awareness many moons ago and every October they feature "pink" items that will benefit cancer charities. So get to shopping!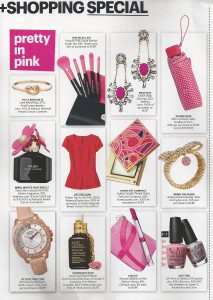 "Trainer to Go"
World class trainer David Kirsch shows a few different exercises you can do in a plank position. (Plan on using these in my core classes soon!)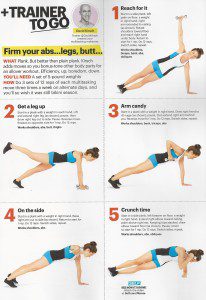 "How Did I Workout Without This?"
Awesome "high-tech gear" that pro football players use are featured on this page and that makes me happy. (Because I love football. Go Niners!)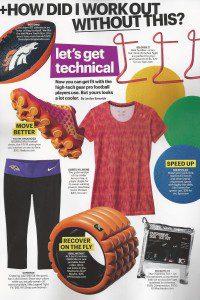 "23 Minutes"
Say you truly only have a half hour at the gym to workout—these moves from Sean Begley of Plus One Fitness will help you get your sweat on in a minimum amount of time.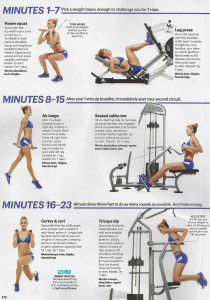 The Rest of the Best of the October SELF:
"Fat Talk. Old Talk" Recently I have been thinking more about the "O" word and how much I hate it when people my age or much younger use it to describe themselves. Nice to read an article about I from someone far more eloquent than me! (Writer is Erin Bried)
"Do I Really Have to Stop Eating Bacon?" Good god I hope not! In the October issue we get "Women's Cancer Handbook" which talks about which "bad habits" you need to nix to ward off disease.
Overall Grade:
B Big improvement over the last few months and I tore out many pages to keep on file which is always a good sign.
You can check out SELF online at: www.Self.com
Ox Ox,
BFC
Brooklyn Fit Chick
Follow me on Twitter: "BrooklynFitChik" (note the spelling!)
Friend me on Facebook: "Brooklyn FitChick"
Instagram: BrooklynFitChick
You Tube: BrooklynFitChick1