What Did We Learn This Month?
 Health
September 2015
Health Cover Star for September:
Chicago P.D. star Sophia Bush is on the cover and though I haven't caught that show yet I remember her from One Tree Hill from over ten years ago.  AND I can mention actually getting to meet her then because of my job with YM magazine (a now much-missed teen publication) at the time.
Anyway, Sophia is 33 now and credits her 10-minute morning meditation to keeping her sane and even recommends an app called "Headspace" to help with this which I downloaded right away. (It's neat!)
She lost her ex-boyfriend Google executive Dan Fredinburg when he trekked to Mount Everest and there was an earthquake during his climb. This experience has been completely devastating for Sophia and made her realize how precious life is.
Sophia relies on the aforementioned meditation and her morning 2-mile runs to keep centered.
Apropos of nothing else I really love the Alexander Wang dress she is wearing on the cover…
So what else is inside the September Health?
"Yoga for Killer Arms"
Yoga and Pilates instructor Kristin McGee demonstrates how to perform a proper chaturanga to strengthen your upper body. (It took me months to figure out how to do these at first.)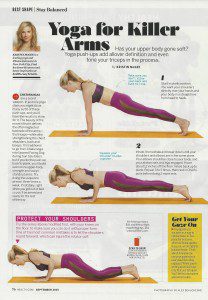 "Your Better Leg (and Butt!) Plan"
Gwyneth's favorite fitness guru, Tracy Anderson, is a regular in the pages of Health and she is famous for complicated leg lifts with multiple (and I mean multiple) reps that will leave you begging for mercy. This page will give you just that.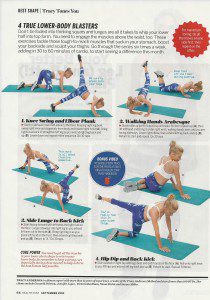 "Coconut Oil Hacks"
I am one of those annoying coconut oil evangelists who will regale you with how many purposes it serves in my life but check out this page and read it for yourself. You will thank me later. (You're welcome!)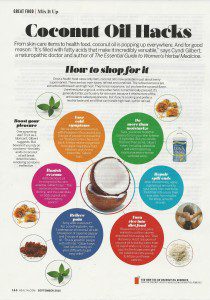 "Love All"
I am not a very good tennis player but LOVE the outfits and some of the items featured here can be worn to any workout. Win/win, people!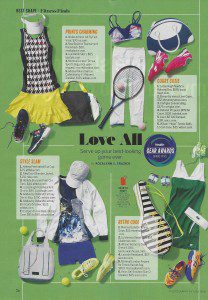 And now the rest of the best of this issue of Health:
"Your Memory: A User's Manual" It is my goal to improve my ability to memorize and remember things. (Like knowing exactly when my mother is planning to visit which I screwed up by 24 hours this morning. True story!) I found that these pages give great tips on how to do just that. (Yes, I will work to apply them.)
"60 Beauty Breakthroughs" I love me some beauty stories and here we have new products for skin care, body lotions, make-up, nail colors and hair care. Love!
"5 Reasons You're Always Hungry" I used to have a ravenous appetite after starting a new diet and would want to just eat non-stop. Anyhoo—if you have that issue they have advice here on how to stop the munchies from taking over your life.
"9 Probiotic Foods You Have to Try" Included here are Kvass, sauerkraut, kefir and my sister's favorite thing in the world—kombucha!
Follow Heath online at: www.Health.com
Overall Grade:
B+ There are some smart features in this issue which I appreciate but I was hoping for at least one complete workout to take away.
(If you are reading this on a different site or a different feed than Brooklyn Fit Chick, it has been taken without permission.)
Until next time…
Ox Ox,
BFC
Brooklyn Fit Chick
Follow me on Twitter: "BrooklynFitChik" (note the spelling!)
Instagram: BrooklynFitChick
Pinterest: BrooklynFitChick
You Tube: BrooklynFitChick1