Brooklyn Fit Chick Vlog Episode 46
Featuring: "She's Nacho Mama" Podcast Shout Out, Learning to Forgive Yourself and
My "GI Jayne" Kickboxing DVD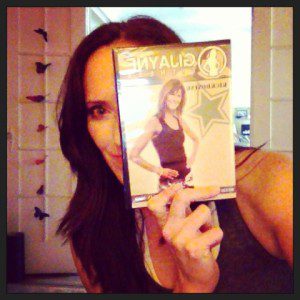 Hey there! Hi there! Ho there!
How are you all? Things have been pretty good by me but I have been thinking quite a bit lately on the topic of forgiveness. How, for me, it is so much easier to forgive someone who has hurt me than for me to forgive myself when I make a mistake. Are any of you like that? Do you beat yourself up emotionally when you fail to reach a goal or make a totally dumb error of judgment? Lately I have noticed many of my friends on Twitter and Facebook castigating themselves for bot ordering the "right" thing for lunch or not running long enough even though the weather is nice. Why do we do that?
This past week I made an error of judgment with a client which I could have avoided if I had just asked a question at the beginning versus trying to find the answer on my own (long, boring story.) And honestly—it has bothered me for the last 3 days straight. The only time I feel good about myself completely is when I am teaching and can shut out the voices in my head. Does this sound familiar to any of you? How do you handle it? I would love to get your tips!
Anyhoo—let's get to the short list of what I am covering on this week's Vlog:
The Power of Margos! Thanks so much to my good friend Margo who included me in her amazing Blog and Podcast and giving a shout to my Vlogs. (I am in such great company by the way!)
The Power of Forgetting the Past: My good friend Marrilee Wilson and her story of forgiving a former coworker.
Forgiving Myself: My difficulty in forgetting my mess-ups and seeing the same thing in many of my online friends.
The Fantastic "Old is the New Fat Talk" post by Miz Fit Online (Carla Birnberg)
"Buyer & Cellar" A terrific play that is a fictional account of Barbra Streisand's home mall. Really!
My good friend Alicia of Poise in Parma who helped me with this week's groovy DVD giveaway.
Here is this week's Vlog post:
Here is more information about this week's giveaway:
Cleveland-area Fitness Trainer "GI" Jayne Engeman Delivers a Punch With Kickboxing DVD Release
Reach for your goals. Experience the fulfillment of treating your body right.
CLEVELAND, May 14, 2013 /—GIJAYNEFITNESS (gijaynefitness.com) and trainer-entrepreneur Jayne Engeman debut first home workout DVD –GIJAYNEFITNESS Kickboxing – on May 28, 2013. GI Jayne Engeman harnesses over 25 years of fitness teaching experience in this 30-minute high impact kickboxing boot camp, designed with your body in mind, and challenges you to kick it with GIJAYNE.
The Workout
Kick start your day with GIJAYNEFITNESS Kickboxing. What began as GI Jayne's outdoor boot camp for local Clevelanders now moves the high energy training indoors and into your living room. Engeman invites you to challenge yourself with, "Straight forward moves with a lot of intensity! Nothing fancy, nothing complicated—just hard work!" The 30-minute total body kickboxing workout is designed specifically to target your arms, legs, core and butt.
The DVD
The Motivation
Full body fitness is a way of life for Engeman, and it can be for you too. GI Jayne Engeman was voted Best Group Fitness Instructor 2012 by readers of Northeastern Ohio's Cleveland Magazine. She's an ISSA Certified Personal Trainer and was the Featured Instructor at the Cleveland Clinic Annual Health Fair (2012). She teaches a variety of fitness courses including boot camps, kickboxing, barbell, weight training, core training and indoor cycling.
Engeman has been delivering her fitness expertise to Cleveland-area participants for over two decades, but now you can experience her motivating spirit, encouragement and energy right in your home. She draws her motivation from helping her students experience personal growth and progress toward their fitness goals. She focuses on the journey – not the end result – and expects hard work along the way.
Engeman also understands how hectic life can become. "Make time for yourself and your body's fitness, no matter how busy you are. You can't continue to use your commitments to family or kids as excuses. You can set aside an hour for yourself and your lifestyle," says Engeman. Jayne also has a unique message for participants in their 40s and 50s, "It's not about how you look, but how you feel." She considers it her personal goal to help each student incorporate daily fitness into their lives. GIJAYNEFITNESS Kickboxing producer, Christopher Harris explains, "Jayne has the gift of being able to bring people of different fitness levels together as one. Her intensity seems to bring out the best in people, and that's why we've continued to support her and come back for more."
Get Started Now! Find more information at:
www.gijaynefitness.com
http://twitter.com/GIJAYNEFITNESS
https://www.facebook.com/jayne.gijaynefitness.9
http://www.linkedin.com/pub/jayne-engeman/29/362/15
About GIJAYNEFITNESS LLC
GIJAYNEFITNESS LLC, founded in 2009, offers fitness courses and merchandise by ISSA Certified Personal Trainer Jayne Engeman. Visit online at gijaynefitness.com
Disclaimer: Consult with your doctor before beginning this or any exercise program. The creators, producers, participants, and partners of this program do not assume liability for injury or loss in connection with this exercise program or instructions therein.
Go that? Okay—if you want to win a copy of this DVD, please do the following:
Post a comment in the section below.
Tweet out your interest to me @BrooklynFitChik and @GOJAYNEFITNESS
I will pick a winner at random (Continental U.S. only please) next Monday, August 12th. Thanks so much in advance and good luck!
Until next time…
Ox Ox,
BFC
Brooklyn Fit Chick
Follow me on Twitter: "BrooklynFitChik" (note the spelling!)
Friend me on Facebook: "Brooklyn FitChick
Instagram: "brooklynfitchick"
You Tube: BrooklynFitChick1