Brooklyn Fit Chick Vlog Episode 44
Featuring: Walking All Night in NYC, Tarting Up Maidenform Bras, Compression Socks and More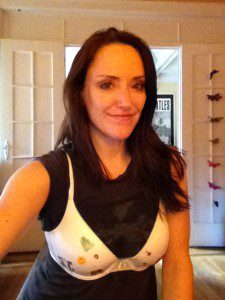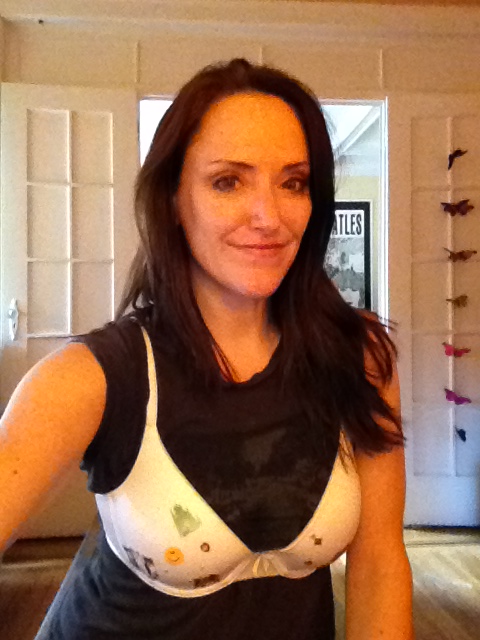 Hey there! Hi there! Ho there!
Yesterday/last night I had a hell of a fun time with our friend Toni Church of Running Loving Living and her buddy Crystal as they walked their first marathon and I competed my first half marathon for breast cancer awareness—yay us!
The charity is called The Moon Walk/Walk the Walk and after many years of taking place in the U.K. they held their first overnight walk in the U.S. which started and ended at Randall's Island. A place that in all of my 18 years living here have never been to and I still have no idea what they actually do there or why it even exists.
The actual walk began at 10:30 pm and the point was to walk by the moonlight for either a half or full marathon wearing a colorfully decorated bra to show support of breast cancer survivors. Having never run much less walked a half marathon before—this seemed like a daunting task.
However, Toni is a very convincing person and, of course, I signed up to join her team–Empire Blue Cross.
Overall the night was fun and fabulous though I could have done without the heat, humidity or the drunks on Second Avenue.
Though, I must say, many of them were sweet enough to offer high-fives along with an encouraging "Atta girl Sweetie!" And they say you can't meet a decent guy in New York!
But let us start at the beginning…
The day started with Toni, Crystal and I meeting up at the Millennium hotel and modeling our tarted bras provided by Maidenform. I was going to glue stars all over mine but the glue gun I bought did not contain any glue (grrr) so I slapped on a bunch of stickers and called it a whimsical day.
Toni went a foxier route…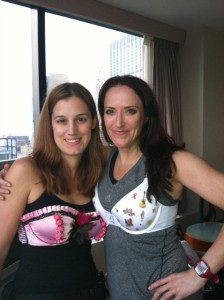 Then we headed up to Randall's Island to look for our VIP tent.
Did I mention the VIP tent? Well this Paleo-loving gal was so happy to be on the Empire/Blue Cross team because we got to hang out in the fancy VIP tent and chow down on some top quality nosh along with water provided by Balance Spring Water which rocked my word.
Before leaving I was able to meet Ms. New York United States 2013 Stephanie Jill Chernick who is totally adorable and I plan to interview soon to talk about her love of teaching kids fitness and health.
She is the gorgeous blonde to the left of me. (Of course I am made to pose with a line of hot, skinny 20-something cheerleaders before I take off for a 4-hour sweaty workout!)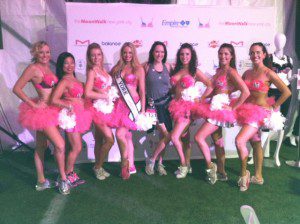 The walk itself was incredible (hoping to get more photos to post for you guys!) and though I was hoping to complete the whole marathon with Toni and Crystal—my knee gave out on me somewhere around the South Street Seaport and said TAKE ME HOME NOW!
So I did just that at the half-way mark. After bidding a fond farewell to my homies a sweet cop hailed me a cab to send me off into the night.
Here I am enjoying the ride home (ah—air conditioning!)
My cat Sarah greeted me when I finally got back to Brooklyn (about 2:30 am.)
And she meow-reminded me that I should wear my compression socks and knee brace to bed. So take a gander at this sexy shot fellas—you're welcome!!
So those are my major walk highlights from my first half-marathon walk. Now on to my Vlog for this week! Here are the highlights:
Thanks for dropping by today! I will be back this week with my playlists and magazine reviews aplenty. So y'all come back, ya hear?
Until next time…
Ox Ox,
BFC
Brooklyn Fit Chick
Follow me on Twitter: "BrooklynFitChik" (note the spelling!)
Friend me on Facebook: "Brooklyn FitChick
Instagram: "brooklynfitchick"
You Tube: BrooklynFitChick1