What Did We Learn This Month?
 Health: September 2013
Health Cover Star for September:
Ali Larter
The actress Ali Larter loves to have people over for dinner and decided to share her favorite recipes in her new cookbook Kitchen Revelry. She also gained FIVE WHOLE POUNDS doing it!
(Really, that needed to be pointed out? Because I can gain five pounds in one weekend trip to Maine!)
Moving on, Ali seems very nice (she's a New Jersey native) and includes a few of her very own of tasty-looking recipes in this issue. She also advises on kicking your shoes off to make folks feel more comfortable when they come over which I concur.
So what else is inside the September Health?
"Are You Getting a Good Skin Check?"
Not all health care providers know how to properly check for skin cancer (yikes!) so be sure to read this article to make sure your outer layer is in ship shape.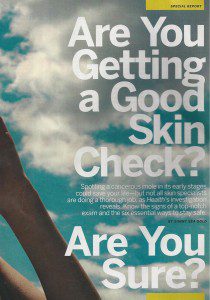 "The New Drinks Trends–Decoded"
Good advice here about the latest liquid trends from "enhanced waters" to all of the new pressed juices coming out of the woodwork.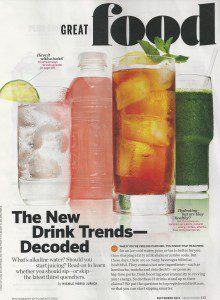 "Found! Foods the Fire You Up"
Truth—food is fuel for your body and can help either bring you energy or sap it right out of you.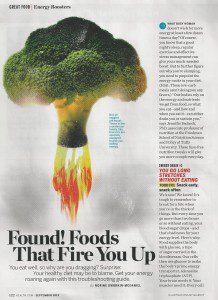 "Your Nose & Sinuses: A User's Guide"
I seem to always have some damn sinus issue or another so these kinds of features are important to me.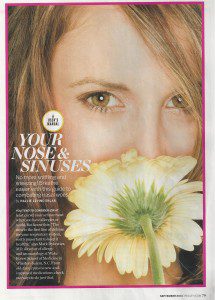 And now the rest of the best of this issue of Health:
"45 Amazing Beauty Buys" I love beauty stories and finding great products for a good price makes me happy.
"Every Woman's Guide to Running" The best tips out there on running for beginners on up to the best gear for marathoners.
"Why Calm is the New Happy" When we are in our 20s many of us describe joy in terms of being overwhelmingly happy but over time contentment starts to take over and we have a "happiness metamorphosis." Or something like that…
"I Want My Great Memory back!" Sorry—what am I doing here again? Oh—blogging about Health magazine!
Follow Heath online at: www.Health.com
Overall Grade:
B- Again—no workouts! Where did they go Health?
Ox ox,
Brooklyn Fit Chick
(BFC)
Follow me on Twitter: @BrooklynFitChik (note the spelling!)
Friend Me on Facebook: "Brooklyn FitChick"
Instagram: "brooklynfitchick"
You Tube: "BrooklynFitChick1"