Brooklyn Fit Chick Giveaway!
BarreAmped and BarreAmped Boot Camp DVD by Suzanne Bowen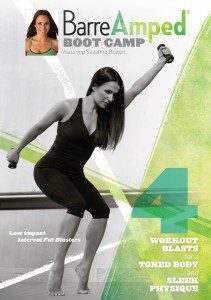 Hey there! Hi there! Ho there!
Who out there is in the mood to actually win something today? Woo hoo! Today I have two different workout DVDs from the fabulous Suzanne Bowen who trained at the legendary Lotte Berk Method studios in NYC. Suzanne later took her practice to Nashville creating her own line of studios helping all sorts of women (even a few A-list celebrities) to get into shape by focusing on proper form and alignment.  Today I have two DVDs of her latest work to offer as a giveaway: BarreAmped & BarreAmped Boot Camp (www.barreamped.com.)  This is not a paid post and the DVD will be sent directly to the winner.
Here are the main details:   
Panama City Beach, FL — Fitness expert Suzanne Bowen, creator of Suzanne Bowen Fitness has just released two new signature BarreAmped workouts on DVD. BarreAmped is a proven, results oriented, body shaping barre program that is based on dance, Pilates, yoga, and Bowen's classical Lotte Berk training. BarreAmped is taught in over 50 studios worldwide with over 330 instructors certified to teach the program around the world. Now, on DVD, Suzanne Bowen, with the help of her two trainers who provide modifications, take viewers through this results oriented program in the privacy of their own home, or on the go, with the help of the streaming workouts on her website www.suzannebowenfitness.com.
In BarreAmped (91 minutes, $19.99) viewers will experience Suzanne Bowen's motto #ShakeToChange as they follow her along in this powerful, focused program described as classic barre meets extreme results. The DVD is divided into five segments that produce great results with low-impact, mind-body connecting moves. Segments include: Introduction, Warm Up, Light Weight Work, Thigh Work, Seat Work, Mat Work, and Stretch.
BarreAmped BOOT CAMP (80 minutes, $19.99) takes it up a notch with low impact interval fat blasters that have helped hundreds of people worldwide burn fat and lean out as Suzanne combines classic barre with low-impact, non-punishing cardio intervals. Segments include: Introduction, Warm Up, Arm Work, Thigh Work, Seat Work, Core, and, Stretch.
In both DVDs, Suzanne leads viewers through the challenging, but doable workout segments that can be done by segment individually, mixed and matched, or done all together for one complete BarreAmped and/or BarreAmped Bootcamp fat blast to #shaketochange and be the best they can be #yourbestnotperfection.
Both DVDs include a bonus tutorial to help achieve safe and effective results quickly. The DVDs are available at www.suzannebowenfitness.com and each DVD purchase includes a complimentary one-month trial membership to Suzanne Bowen Fitness (#SBF) for Suzanne's on-demand streaming workouts.
About Suzanne Bowen
Suzanne Bowen is the founder of Suzanne Bowen Fitness (SBF) and the creator of BarreAmped, based on classic technique, a neutral spine, and a solid foundation of alignment. She began her fitness career over thirteen years ago at the original barre studio, New York City's legendary Lotte Berk Method studios. It was there that she was classically trained as a top instructor.  She moved from New York to Nashville where she opened a studio and expanded her clientele to include top Nashville stars.  Her company, Suzanne Bowen fitness, (SBF) embodies the best of combining mind, body and spirit to live a healthy lifestyle. She helps people build a foundation and encourages them to be their best form of excellence. She currently lives in Florida with her husband and two children, and maintains her home and studio in Nashville.
If you want to win this giveaway you must do the following (Continental United States, please!)
Post a comment below (on this post) letting me know you are interested.
Send a comment on Twitter and say "I want to win the two BarreAmped DVDs from @suzannecbrown and @brooklynfitchik"
If you haven't already—let me know you are subscribing to my You Tube channel
I will pick one winner at random on Tuesday, September 2nd at NOON Eastern Time and contact them directly. Good luck!
Until next time…
Ox Ox,
BFC
Brooklyn Fit Chick
Follow me on Twitter: "BrooklynFitChik" (note the spelling!)
Instagram: BrooklynFitChick
Pinterest: BrooklynFitChick
You Tube: BrooklynFitChick1