What Did We Learn This Month?
 Women's Health
September 2014
Women's Health Cover Star for September 2014: 
Am I the only person in the world who has never seen one episode of The Big Bang Theory? I guess so because it is one of the most popular sitcoms on TV right and the stars of the show just got HUGE raises according to Entertainment Weekly so what am I missing out on, people? Should I check it out?
Anyhoo— Kaley Cuoco-Sweeting has been on the show for eight seasons and is now married to pro tennis player Ryan Sweeting. Inside the magazine she talks about boosting your self-confidence, making quick decisions, "instant attitude swaps" and her complete devotion to all things pertaining to Jennifer Anniston.
In spite of super-busy the comedienne tells Women's Health she is ready to get into the mommy-making business as soon as possible while also starring on the hit show (tough life!)
Kaley also stars in the Fall Fashion Guide in the back of the magazine which you can see here.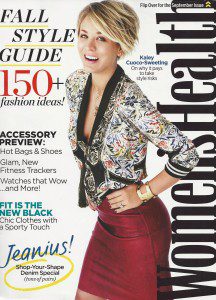 So what else is in the September issue of Women's Health? 
15-Minute Workout "Build a Hotter Body…"
Pat Matheny of SoHo Strength Lab in NYC created this "reverse pyramid" workout where you perform the hardest part of your workout at the beginning in order to build "mental momentum" and "finish strong."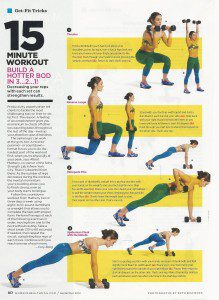 "Fire Up Your Hidden Fat Burners"  
Expert trainer BJ Gaddour offers workouts for often neglected muscle groups (hips and shoulders) which can help increase fat burn and intensify your planks, squats and lunges.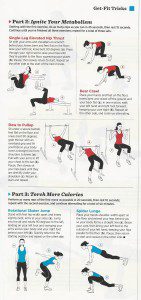 "Grab a Hold of a Hotter Body"
If you are interested in rock climbing but think you need to get into shape for it—try these moves from expert climber Michelle Pollmeier.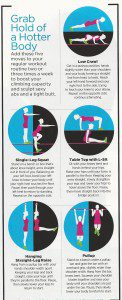 Fall Style Guide page that gives me the "I Wants!"
Women's Health has several pages devoted of all of the fall trends and I like just about every damn thing on this page. (Now who is treating me to a shopping spree?)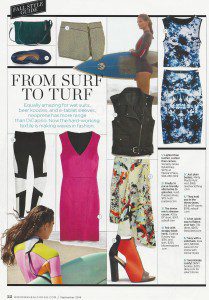 And now the rest of the best of this issue of Women's Health:
"The Untold Dangers of Lyme Disease" Women's Health takes a deep look at Lyme disease and manages to scare the hell out of. (Yikes!)
 "What Wealthy Women Know" Advice from women who know how to earn (and save!) big bucks so we can all get out of debt. (Yes, please!)
"I Survived a Violent Attack on Vacation" Once again—this magazine know how to get my attention! (Plus, tips to stay on while on holiday.)
Overall Grade:
A While I am most certainly NOT excited to leave summer behind—this issue has enough to keep me happy until September shows up. (Why, oh why must the summer go?)
You can check out Women's Health online as well: www.WomensHealthMag.com
Until next time…
Ox Ox,
BFC
Brooklyn Fit Chick
Follow me on Twitter: "BrooklynFitChik" (note the spelling!)
Instagram: BrooklynFitChick
Pinterest: BrooklynFitChick
You Tube: BrooklynFitChick1