Brooklyn Fit Chick "Blink Fitness Giveaway!"
Enter to Win a Free One-Year Membership
(Open to the New York City Area Only, Sorry!) 
Hey there! Hi there! Ho there!
Today I am giving away a very cool gym membership to one of you lucky readers who happen to live near a Blink Fitness gym. What is Blink Fitness? Well it is about one of the cheeriest gyms you will probably ever see in your life! (See the photos above and below)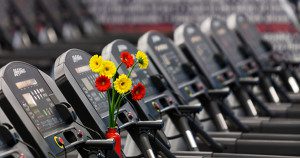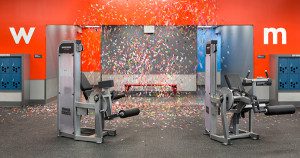 But who ARE they?
Well, here some facts about Blink Fitness:
They were founded in 2011 with more than 35 locations throughout New York and New Jersey and have created an affordable, high-quality experience with memberships that begin at only $15 per month. (WOW!!!)
Blink Fitness' moto is "Mind Over Muscle" with a friendly staff, a spacious environment that is also colorful and clean. In addition to that, Blink's "Feel Good Experience" includes the following for every member:
Blink Members will always be greeted by enthusiasm and treated with respect
Blink designs gyms that are open and bright
Blink uses a color palate that is scientifically proven to have a positive effect on mood
Blink has an "everyone cleans" philosophy (well—the staff cleans, not the members!)
Blink selects music to create a motivating environment
Each club has over 100 pieces of the best cardio equipment on the market and at least 50 pieces of strength-building equipment.
Plus—they have a one-on-one training program called "Happy Hours" but get this—they also offer 30-minute sessions which start at as low as $27. (YES! I have always wanted to get a quick personal training session to fit into my sometimes crazy schedule!)
They also offer some group classes including a "Boost Camp" which starts as low as $10 per class.
You can follow them on Facebook, Twitter and Instagram.
So if you live in the NYC area you are eligible to enter to win a free year's membership to Blink! (Be sure to check out where they currently have locations to see if it will work within your lifestyle.)
Post a comment below (on this post) letting me know you are interested.
Send a comment on Twitter and say "I want to win the @blinkfitness giveawayfrom @brooklynfitchik"
If you haven't already—let me know you are subscribing to my You Tube channel
I will pick one winner at random on Monday, June 15, 2015 at NOON Eastern Time and contact them directly. Good luck! Blink Fitness will then work with the winner of the giveaway to figure out the membership details)
Just out of curiosity–when you are looking for a gym what are the most important qualities you are looking for? What makes the difference for you? Price? Location? Overall vibe? Let me know!
(If you are reading this on a different site or a different feed than Brooklyn Fit Chick, it has been taken without permission.)
Until next time…
Ox Ox,
BFC
Brooklyn Fit Chick
Follow me on Twitter: "BrooklynFitChik" (note the spelling!)
Instagram: BrooklynFitChick
Pinterest: BrooklynFitChick
You Tube: BrooklynFitChick1