What Did We Learn This Month?
 Fitness: January 2014
What Do We Learn This Month in Fitness?
It's time for the January issues to come in and we are starting my first review of the year with Fitness. I am a fan of this magazine as it is less interested in celebrities and focuses on giving great workouts in each issue.  So let's get started, shall we?
 "Tone All Over"
Michelle Dozois who created the BodyFit 360 DVD offers this workout that will help develop muscles with a boot camp class intensity along with yoga poses.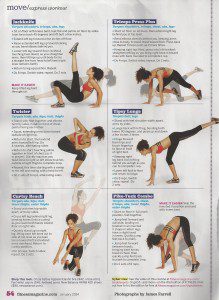 "Fast Belly Blast"
Loved this workout from Shaun T. (who created the popular workout DVD series Insanity) as it works your entire core in just 25-minutes and you can take just about anywhere.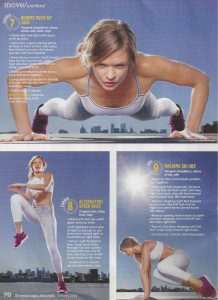 "Mix it Up!"
So we are all stuck indoors for the foreseeable future (damn you cold weather) but that does not mean your workouts on cardio equipment have to be boring. Nay! Just try out these 30-minute suggestion from trainer Annette Comerchero who teaches group elliptical classes.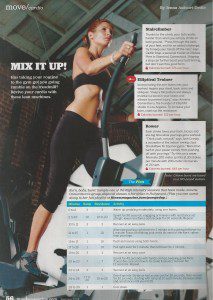 "Hot Stuff"
This is a whole page of cool stuff on the market now including a Salt-N-Pepa snowboard. You read that correctly!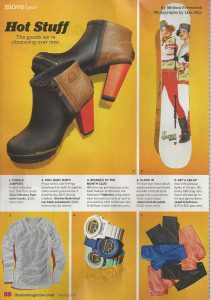 And now the rest of this issue of Fitness:
"Love It!" A whole page of beauty thingies that make me smile. (Love my beauty stories!)
"Your New Anti-Aging Arsenal" (Did I mention how much I like beauty stories? I do!)
"The Domino Effect" making just one little change in your life can have huge benefits in the long haul. In this feature Fitness had a group of women pick one new goal for just one month (turning off the TV after one hour, brushing and flossing after dinner, easing up on Facebook, etc) and shows how their lives improved overall.
Overall Grade:
A- A great magazine to get you motivated for the new year.
You can follow Fitness magazine at www.fitnessmagazine.com
Until next time…
Ox Ox,
BFC
Brooklyn Fit Chick
Follow me on Twitter: "BrooklynFitChik" (note the spelling!)
Instagram: BrooklynFitChick
Pinterest: BrooklynFitChick
You Tube: BrooklynFitChick1