Brooklyn Fit Chick Vlog Episode 59
Featuring: Weight Loss Rebels, Fit Divas
& Diane Sanfilippo's "The 21-Day Sugar Detox!" Book Giveaway
Hey there! Hi there! Ho there!
I have lots of fun news and a new OMG-worthy book giveaway to talk about this week so I could just babble on and on and waste your time or I can just get right into it.
First, the fun news of the week: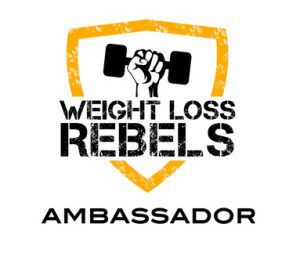 I am now officially an Ambassador for Weight Loss Rebels—whoo hoo! Weight Loss Rebels is an excellent fitness & healthy lifestyle web site led by the ah-mazing Meg Brown aka Fit Bitch who believes in "In a nutshell, that fitness and diet should not be a punishment, that it's a psychological process, and that severe calorie restriction and excessive cardio have no place in anyone's program." Check out their site to get more details about Weight Loss rebels which now includes recipes by my Blogger buds Pineapple & Coconut and Cavegirl Confections. Do it!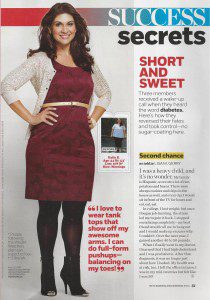 My friend Kelly E. of Curvy Fit Girl is featured as a success story in the November/December issue of Weight Watchers magazine! Kelly has lost over 100 pounds on Weight Watchers and following a Paleo diet and she inspires me every day on Twitter. Be sure to follow her on Facebook and Twitter!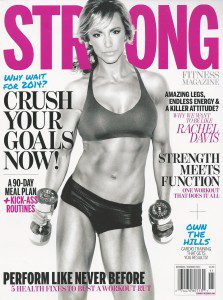 STRONG fitness magazine: Did you all see the latest entry on the magazine shelves out there? STRONG fitness magazine is brand new on the market and aims to take on the Oxygen magazine audience by featuring super fit women photographed beautifully. Here is the cover with Rachel Davis (see below.) I will have a review of it soon!
Anyhoo—on to the giveaway!
Brooklyn Fit Chick Giveaway of "The 21-Day Sugar Detox" by Paleo rock star Diane Sanfilippo, BS, NC:
Those of you who follow me know that I am a big Paleo follower (no, it is not a DIET to me nor do I push it on anyone else.) This plan makes me feel better mentally & physically than I have most of my adult life and one of my favorite Paleo cookbooks is Practical Paleo by Diane Sanfilippo, BS NC. This book is flagged and ready to use at all times in my kitchen with one of my favorite recipes being bacon-wrapped chicken thighs (nom nom!)
This past week she held a party in honor of her latest offering The 21-Day Sugar Detox which I had to miss because of work stuff (dammit!) but I was given the opportunity to give away two copies of her book (yay!) If you want to know more about the plan—check out this video from Diane:
Here are more details about "The 21-Day Sugar Detox":
Are you ready to get your sugar and carb cravings under control? The 21-Day Sugar Detox is a clear-cut, effective, whole-foods-based nutrition action plan that will naturally re-set your body and your habits! More than 10,000 people have already succeeded with this easy-to-follow plan. Now it's your turn! In just three weeks, you can free yourself from cravings, regain your energy, and feel great again.
This simple detox plan will help you break the stronghold of your worst go-to foods: the sweets, the refined grains you grab on the go, even the many seemingly "okay" foods that contain hidden sugars. These foods taste great, but they make you look and feel terrible. They rob you of your focus, spawn irrational mid-afternoon cravings, and make it so you can't even get through the day without wanting–no, needing–to prop up your energy level with caffeine or, worse, even more sugar!
It's time to break the cycle. The 21-Day Sugar Detox offers easy-to-follow meal plans and more than 75 recipes suitable for all levels of the program. Even better, it gives you three options so you can determine the level of detox you want. Whether you've never gone sugar or gluten free; you already follow a gluten- and grain-free diet; or actively follow a Paleo/Primal diet–there's a level for you. Choose the level that's best for you — and bust a lifetime of sugar and carb cravings in just three weeks.
The 21-Day Sugar Detox even includes special modifications for athletes (including endurance and CrossFit/HIIT-style training); pregnant/nursing moms; vegetarians/ vegans; and those with autoimmune conditions.
Start The 21-Day Sugar Detox today. Why wait?
Whew! Now on to this week's Vlog post with more details:
Got that? Now, if you want to be in the running to win one of the two copies I am giving away this week (Continental U.S. only!) you must do the following:
Post a comment below (on this particular blog post).
Tweet out your interest by saying "I want to win @BalancedBites from @BrooklynFitChik"
Use the hashtag "21DSDbook"
Subscribe to my You Tube here (let me know if you are already subscribed!) http://www.youtube.com/user/BrooklynFitChick1
Enter as many times as you like! I will pick two separate next Monday, November 11th at NOON eastern time and contact them directly. Good luck!
Until next time…
Ox Ox,
BFC
Brooklyn Fit Chick
Follow me on Twitter: "BrooklynFitChik" (note the spelling!)
Friend me on Facebook: "Brooklyn FitChick"
Instagram: BrooklynFitChick
Pinterest: BrooklynFitChick
You Tube: BrooklynFitChick1