What Did We Learn This Month?
 Health
April 2015
Health Cover Star for April:
Anna Faris is the April cover star and I just adore how sweet and down-to-earth she comes across in interviews. Anna is the star of one of my favorite comedies—The House Bunny and the actress knows how to put a unique, quirky spin to her performances. She is currently starring in CBS TV's Mom and is happy in her home life with (now buff) Chris Pratt and their young boy Jack.
Anna's breakfast of choice is antelope sausage (her husband likes to hunt their own food) and she has a hard time with activities like yoga which require stillness and quiet (me too!)  The couple hopes to move their family out of creepy paparazzi-ville Los Angeles one of these days and enjoy nature a bit more. (She is from Edmonds, Washington.)
So what else is inside the April Health?
"The Three Best Moves for Tight, Trim Abs"
Health asked trainer Joel Harper for his favorite abs workout to get your core strong and here they are! (I like the leg circles for sure!)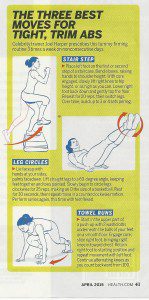 "4 Ultimate Booty Boosters"
Tracy Anderson (Goop's favorite trainer) has a few moves that are a little tricky to figure out based on the description but I guarantee you WILL feel them the next day. Tracy recommends you do this particular series of leg moves six times per week along with 30-60 minutes of cardio to see full results so not a quick workout for sure. (I say if you can get something like this in twice a week you will still see a benefit.)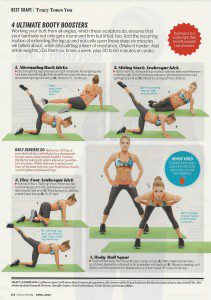 "Get a Balanced Body"
Big time trainer to the stars Gunner Peterson created this workout that will challenge your core by engaging multiple muscle groups in a proprioceptively challenging space.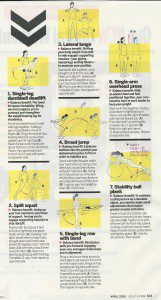 And now the rest of the best of this issue of Health:
"Your Nose: A User's Manual" My sinuses drive me crazy almost every single day. Like I blow my nose constantly and I still feel like I can't breathe very well. Good advice here includes to NOT about the neti pot which I have certainly done in the past.
"Upgrade Your Sport Shoe" I am so ready to toss out all of my sneakers that have been ruined by this lousy winter weather. These pages gave me fun ideas to trade in for right now!
"Sugar Confusion, Cleared" As someone who tries to keep the 'bad" sugars out her diet (and fails with the occasional Starburst) this article was a good read. .
Follow Heath online at: www.Health.com
Overall Grade:
A- A good read and some useful workouts here. I say pick this one up!
(If you are reading this on a different site or a different feed than Brooklyn Fit Chick, it has been taken without permission.)
Until next time…
Ox Ox,
BFC
Brooklyn Fit Chick
Follow me on Twitter: "BrooklynFitChik" (note the spelling!)
Instagram: BrooklynFitChick
Pinterest: BrooklynFitChick
You Tube: BrooklynFitChick1