What Did We Learn This Month?
 Muscle & Fitness Hers
March/April 2014
What Do We Learn This Month in Muscle & Fitness Hers?
"Hardcore Waist Whittlers"
The cover star IFBB bikini pro Michelle Lewin demonstrates a whole series of kick-ass moves to make your core stronger.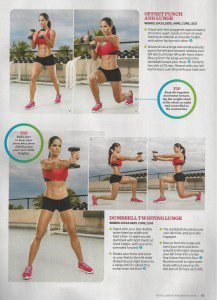 "8 Essential Muscle Menders"
This whole page gives me the "I wants." Especially the pink Grid 2.0 foam roller!!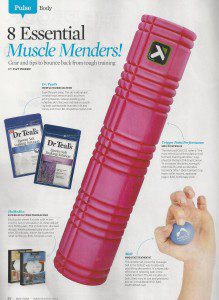 "Look Flawless from Head to Toe"
Muscle & Fitness Hers features NPC bikini competitor Loni Christine in this article talking about compound movements that can cut your workout time and rev your metabolism.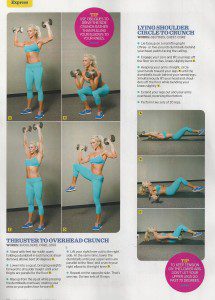 "4 Weeks to Fast-Track Your Fat Loss"
If this crappy winter season has caused you to fall back on your training—here is a healthy eating and tough workout plan to get you motivated again.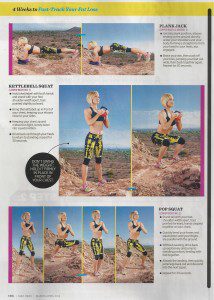 And now the rest of Muscle & Fitness Hers:
"Knock Out Calories" Sisters Cindy and Amanda Serrano are boxers and here they show off some of their favorite strength-building exercises.
"Burn Fat Fast" Tips for scorching calories from IFBB figure pro Kamla Macko, IFBB bikini pro Angeles Burke and Talia Terese.
Tawna Eubanks: The IFBB bikini pro takes us through an average day in her life (whew—she is busy!)
"Bring Sexy Back" Six workout moves to make your back stronger designed by Gino Caccavale.
Overall Grade:
A Several pages of excellent workouts featuring women with real muscles—yes!
You can follow Muscle & Fitness Hers magazine at www.muscleandfitnesshers.com
Until next time…
Ox Ox,
BFC
Brooklyn Fit Chick
Follow me on Twitter: "BrooklynFitChik" (note the spelling!)
Instagram: BrooklynFitChick
Pinterest: BrooklynFitChick
You Tube: BrooklynFitChick1