What Did We Learn This Month?
 Shape: January/February 2014
Shape Cover Star for January/February 2014:
Petra Nemcova: Petra is a supermodel who survived a tsunami in South Asia in 2004 and ultimately lost her boyfriend during the disaster. Petra spent years of her life in recovery from her multiple injuries and decided to use her experience to serve others in need.
Petra created the Happy Hearts Fund to rebuild schools around the world that have been affected by natural disasters. Yay Petra!
In her down time, Petra keeps in shape by following the Physique 57 workouts including this one developed by co-founder Tanya Becker (see below.)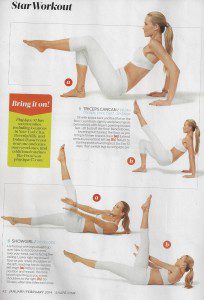 "Stress RX"
Fitness can help us all learn to relax and relieve stress. These moves from Jill Miller RX Series will "ease tension and cultivate calm"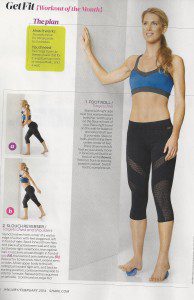 "Upward Trend"
The thought of climbing a wall indoors scares the living daylights out of me (fear of heights combined with vertigo, folks) but it is an excellent workout and will help build strength & balance. If you want to learn how—try these tips from expert Angela Payne.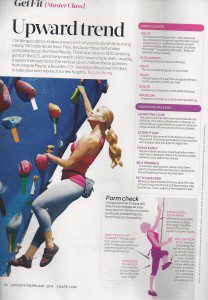 "Climb High"
Okay, so I do not climb but this gear is co cute—I might want to wear them anyway!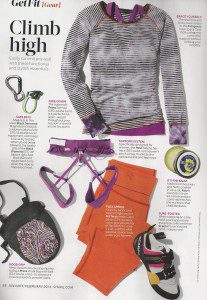 "Basic Training"
Old-school workouts (think PE class back in the 8th grade) from trainer Jay Cardiello.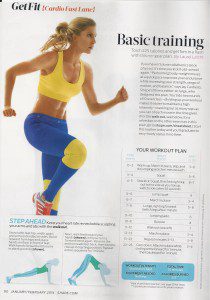 "Fast Track"
Loved these workouts from trainer Michael Olajide, Jr. who has a Sleekify series that seem pretty damn neat according to these pages.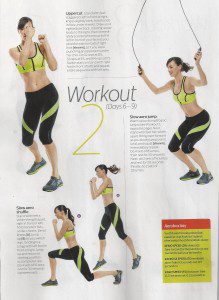 And now the rest of the best of this issue of Shape:
"Game On!" Fantastic winter Olympics coverage. (Can't wait for the games!)
Erin Andrews: The football media maven talks about how she stays in shape while reporting from the sidelines.
Follow Shape magazine online at: www.Shape.com
Overall Grade:
A-    Tons of great workouts here that will help keep you inspired all winter long.
B-   
Until next time…
Ox Ox,
BFC
Brooklyn Fit Chick
Follow me on Twitter: "BrooklynFitChik" (note the spelling!)
Instagram: BrooklynFitChick
Pinterest: BrooklynFitChick
You Tube: BrooklynFitChick1