Brooklyn Fit Chick Vlog Episode 60
Featuring: My New Facebook Fan Page, "Man-Splaining Morrissey & Partnering with Comeback Momma
For the Da Vinci Body Board Giveaway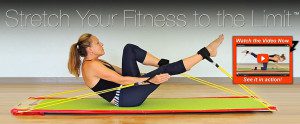 Hey there! Hi there! Ho there!
So this week I am a little cramped for time and need to just get out a couple of things before I give you the sexy deets about my first partnership with my good friend at Comeback Momma. This giveaway is worth $400 and will rock your socks off! But first a little housekeeping and a quick nonsensical story about a clueless hipster, cash register dude who tried to explain The Smiths to me at Trader Joe's this past week. (Son—I have been listening to Mope Rock since before your parents even met!)
First, the fun news of the week:
I finally have a Facebook Fan Page—whoo hoo! Here is the Link please, pretty please with sugar lumps on top will you follow me (or rather, "like" my page?) It will make me so happy to have you all join me there. (Big kadooz to my friend Mariette at Namaste Mari for helping me get my crap together with this project!)
"Man-splaining Morrissey"
I talk about this more in this week's Vlog but recently a cashier at Trader Joe's engaged me in a very awkward conversation. He was singing the lyrics while attempting to explain to me the "irony" inherent in The Smiths song "Happy Unbirthday."  I am so not kidding about this.
To give you some context I am clearly MUCH older than the kid at Trader Joe's and The Smiths and Morrissey are more from my generation so why did he bring up the subject in the first place and felt the need to explain the lyrics to me? It was just a weird exchange. Here is The Smith "Happy Unbirthday" if you have no idea what on earth I am talking about but feel like getting bummed out for a few minutes.
Anyhoo—on to the giveaway! I am really happy to be a part of such a cool, freaking awesome giveaway—the Da Vinci Body Board which retails for $400. All of the details are below my signature and the giveaway will be live from Monday. November 11th – Sunday, December 1st and I wish you all the best of luck.
Now on to this week's Vlog!
Until next time…
Ox Ox,
BFC
Brooklyn Fit Chick
Follow me on Twitter: "BrooklynFitChik" (note the spelling!)
Instagram: BrooklynFitChick
Pinterest: BrooklynFitChick
You Tube: BrooklynFitChick1
Introducing The Da Vinci BodyBoard
The Da Vinci BodyBoard system combines strength training and cardio in one short, daily workout system. The system works for any fitness level and can be used as a rehab system for injuries. The system is designed to build long, lean, muscles and does not tear the muscle. As a result, it can be used daily. This facilitates a more habit-forming exercise regime.
Because of the short time commitment, there are no excuses. The BodyBoard also reaches the smaller muscles that support your joints creating a body with a more complete and balanced muscle structure.
You'll never want to put off a Da Vinci BodyBoard workout. Its an effective workout system that builds strength and cardio fitness, AND it fits into a busy lifestyle, so it's something you will look forward to in your daily routine.
I've partnered with the giveaway host, Comeback Momma to present this amazing giveaway. Check out her review of the Da Vinci Body Board. Good luck!