What Did We Learn This Month?
 Health
December 2014
Health Cover Star for December:
So have I ever told you guys about my Hilary Duff story? Ten years ago I was working for a teen magazine that is sadly no longer with us (RIP YM!) and once we had the teen queen on our cover.
Hillary was promoting her first album and had a big time CD signing at Virgin Records store in Times Square to celebrate. (Oy, that sentence seems so antiquated now!) Anyhoo– my colleague and I took a stack of magazines over with her smiling face on the cover to see if we could possibly get them autographed for the staff at YM.
I suppose we should have known better than to think we could just show up and say "Hi, we work at a magazine. Can we meet Hillary?" In fact—her security team kept us quite a bit away from the Duffster as she was being greeted by thousands of screaming fans (more than a few crying at the very sight of their teen idol.)
When we were finally able to get a close up look at the star we were told the line was closed and that Hilary had to leave right away. Let's just say a few young fans were rather heartbroken and the energy changed from super exciting to rather stale and depressing in no time.
The one cool thing that happened though was that a NYC cop yelled out he was a big fan and Hilary leapt over to pose for a few photos with him for the fans who could not get an autograph which I thought was rather sweet.
I will also say my friend and I were worried about the teen star as that up close you could see how tired she was and terribly thin as well. Like scary skinny.
So it makes me so happy to see her now as a fully functioning adult (a mom nonetheless!) looking so happy and healthy inside the magazine.
Anyhoo—Hilary has a new show coming out in January called Younger and it is being produced by Darren Star who only created Sex & the City, people!
So yay Hilary!
Now, what else is inside the December Health?
"Sweat When You're Sick"
If there is one question I get this time of year as an instructor it's "hey—can I workout with a cold?" Well I will tell them all to check out the new Health magazine and find out for themselves. You can see it here, however!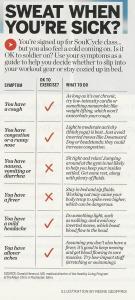 Health Holiday Gift Guide
Of all of their holiday picks for this season I like this page the most. (And I need to get that trigger point foam roller!)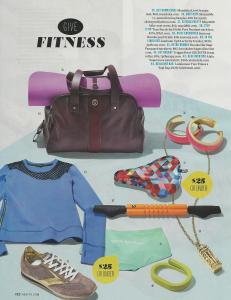 "I Want Killer Legs"
Yoga diva Kristin McGee shows us why she has some seriously nice gams.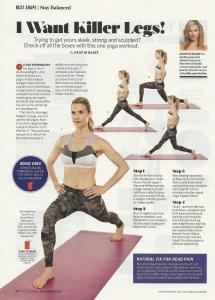 15 Minutes to a Better Body
Tracy Anderson, official FOG (Friend of Gwyneth), demonstrates some neat core moves you can do just about anywhere when you only have 15 minutes to fit in a workout.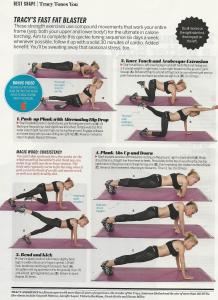 And now the rest of the best of this issue of Health:
"Your Breathing: A User's Manual" I have about every single nasal issue you can imagine so I appreciated this article which talks about all sorts of breathing issues.
"Thinner by Dinner!" I am a little obsessed with body shapers and some of the brands featured here look good and are affordable. (Win/win)
"Too Many Scans?" Know what to ask your doctor the next time you are scheduled for a CT scan.
Follow Heath online at: www.Health.com
Overall Grade:
B + I liked the gift guide very much and the health features but the workouts were lacking for me. See you next month Health!
(If you are reading this on a different site or a different feed than Brooklyn Fit Chick, it has been taken without permission.)
Until next time…
Ox Ox,
BFC
Brooklyn Fit Chick
Follow me on Twitter: "BrooklynFitChik" (note the spelling!)
Instagram: BrooklynFitChick
Pinterest: BrooklynFitChick
You Tube: BrooklynFitChick1