Brooklyn Fit Chick Vlog Episode 66
Featuring: The Brooklyn Fit Chick NYC Bloggers Brunch, the Da Vinci BodyBoard, Michael McKean and Beyoncé!
Plus: My Dr. Ian K. Smith Super Shred: The Big Results Diet
Hey there! Hi there! Ho there!
It's 2014 and I am back in the Blogging saddle—whoo hoo! December was sort of a roller coaster of wonderful and annoying occurrences but I am finally over my Christmas cold, my back is feeling better , I am back to my regular teaching schedules and am ready to get back to my orderly, scheduled life. (Really—I am rather orderly in my everyday life!)
This year I broke away from my usual declarations for the New Year. To be honest—all of my possible mottos, promises, and intentions that I almost wrote on this Blog seemed trite. 2013 was a pretty great year and I am really looking forward to what is around the corner. Maybe I am learning to temper my expectations? Perhaps I need to think on it some more. But I faced a blank page every day for a week trying to come up with New Year's post that would hopefully be inspiring and came up with nothing.
How about you? Did you come up with any resolutions? What are you planning to take on this year? I want to hear all about it!
Anyway—here are the notes for my first Vlog post for 2014:
Attention NYC-based health, fitness and wellness Bloggers–I am hosting a Brooklyn Fit Chick NYC Bloggers Brunch on Saturday, January 25th from 1-4 pm here at my place here in Park Slope. There will be goodie bags! For more details and/or to RSVP reach out to me at brooklynfitchick at gmail dot com. Hope you can make it!
The Da Vinci BodyBoard is now in my apartment and I will have it reviewed on Fit Bottomed Girls soon. (Spoiler—I love it!) Here is a photo of Flohery Mahoney demonstrating it to me a few weeks ago.
The amazing, talented and gifted comedic actor Michael McKean responded to one of my Tweets on Christmas Eve and it totally rocked my world. Here is a screen grab!
Beyonce released a "visual album" and I am incapable of NOT watching/listening to it every single day since I downloaded it. If you are on the fence about whether or not to get it—just get it. You will thank me later. (You're welcome!)
Finally—I am giving away one copy of Dr. Ian Smith Super Shred: The Big Results Diet to one lucky reader. Details after the Vlog!
Now let us get to this week's giveaway!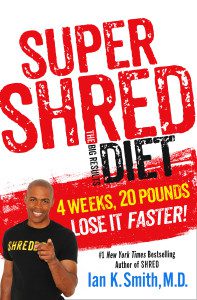 SUPER SHRED
The Big Results Diet/ Ian K. Smith, M.D.
4 Weeks, 20 Pounds, Lose it Faster!
SUPER SHRED: The Big Results Diet by #1 New York Times bestselling author Dr. Ian Smith is a four-week supercharged weight loss plan based on a combination of new science and the dieter-tested concepts behind Dr. Ian's #1 mega-bestseller of 2013, Shred: The Revolutionary Diet.  Dr. Ian was also recently announced as co-host of the Emmy-winning daytime talk show The Doctors.  (St. Martin's Press, $24.99)
Shred became a national phenomenon in 2012, when Dr. Ian shared the diet with a core group of followers on Twitter.  Soon, "shredder cells" began forming in cities across the country, and a movement was born—Shred became an instant #1 bestseller upon publication, and has spent 23 weeks and counting on the New York Times bestsellers list (6 weeks at #1).  There are now 20 shredder cells nationwide, and the national SHREDDER Nation Facebook page allows tens of thousands of shredders to communicate, get support, and hear the latest on weight loss and living a healthier life.
In SUPER SHRED, Dr. Ian distills his successful diet plan into a concentrated, shorter program.  It's a "destination diet," for the goal-oriented person who wants faster, more dramatic results right away, and for those who have a specific target they need to reach by a certain date—a beach vacation, a reunion, a wedding, or a doctor's orders to lose weight quickly for health reasons.  In other words, this is a "crash" diet, but one that is completely healthy, flexible, and effective and doesn't involve the unhealthy extreme measures that rapid weight loss typically demands.
After thousands of pleas via email and Twitter, Dr. Ian created a program that could deliver big results in a short period of time, without jeopardizing health.  He went to the SHREDDER Nation on Facebook and Twitter and put the new program to the test, and the results were absolutely amazing—average weight loss in just 4 weeks was 20 pounds.  But weight loss wasn't the only measure of success.  Many SHREDDERS dropped 2 sizes, lowered their blood pressure, cholesterol levels, and reduced their need for diabetes medications.
Each week of SUPER SHRED has a different theme and purpose: Foundation, Accelerate, Shape, Tenacious.  The weeks work progressively, and symbolize what the program is designed to do:  to take weight off F.A.S.T.  With easy-to-follow menus, shopping lists, recipes, exercise plans and the motivational help to stick with it, SUPER SHRED is the key to dropping pounds, breaking through a plateau and reaching your finish line.
In order to win a copy of this book (Continental U.S. only!) you must do the following:
Post a comment below (on this particular blog post).
Tweet out your interest by saying "I want to win @DoctorIanSmith from @BrooklynFitChik"
Subscribe to my You Tube here (let me know if you are already subscribed!) http://www.youtube.com/user/BrooklynFitChick1
I will randomly pick one winner Monday, January 13th at NOON eastern time and contact them directly. Good luck and enter as often as you like!
Until next time…
Ox Ox,
BFC
Brooklyn Fit Chick
Follow me on Twitter: "BrooklynFitChik" (note the spelling!)
Instagram: BrooklynFitChick
Pinterest: BrooklynFitChick
You Tube: BrooklynFitChick1