What Did We Learn This Month?
 Health
January/February 2015
Health Cover Star for January/February:
I am not a Biggest Loser watcher as there are too many shows waiting in my DVR and on Netflix that will not watch themselves. However, I do love their newest trainer Jennifer (Jen) Widerstrom and philosophy "I'm not looking for dramatic results. I'm looking for consistency. Don't sprint. Just be stable." Yes!
Also the badass trainer's thoughts on running "I hate it." Me too!!!
Jen is a former American Gladiator (who joined the show on a lark) who was nicknamed "Phoenix" and owes her love of fitness to both parents who coached her. This issue she offers her own workout plus there is a 7-Day meal plan from the book The Biggest Loser Bootcamp: The 8_Week Get Real, Get-Results Weight Loss Program.
You can see Jen in action here: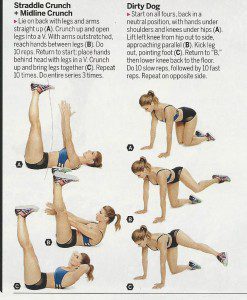 So what else is inside the January/February Health?
"5 Fresh Ways to do a Plank"
Health magazine's yoga expert Kristin McGee offers a few variations on the plank which will work your core extra hard. Tried these out on my bootcampers this morning and they loved (hated) them all!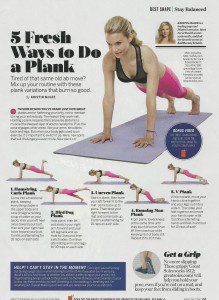 "Get Firm in a Flash"
I like Tracy Anderson's mat work but some of these look tricky to do, no?  They do offer a cardio effort in addition to toning.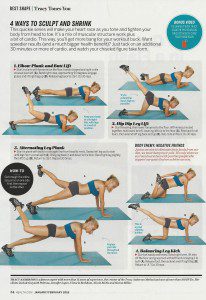 "Superior Posterior"
One of my favorite trainers, David Kirsch, offers these moves to help get your glutes in top shape.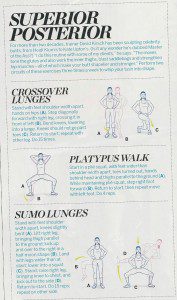 And now the rest of the best of this issue of Health:
"Your Butt: A User's Manual" This is not just about workouts for the proverbial junk in the trunk. This features also talks about sciatica pain, pulled hamstrings and more that can happen when things go awry with your backside.
"What Top Heart Docs Tell Their Friends" What the top cardiologists advise their friends on how to stay healthy including not worrying about salt so much (just cut out processed foods) and the kinds of fish you need to eat.
"5 Problems a Doctor Can Miss" And then sometimes doctors miss things—like IBS, Fibromyalgia and Lupus. Yikes!
Follow Heath online at: www.Health.com
Overall Grade:
B Overall it's a good issue but I felt like it was missing something. Not sure what, but it seemed a little light for me this month. Maybe in the next issue?
(If you are reading this on a different site or a different feed than Brooklyn Fit Chick, it has been taken without permission.)
Until next time…
Ox Ox,
BFC
Brooklyn Fit Chick
Follow me on Twitter: "BrooklynFitChik" (note the spelling!)
Instagram: BrooklynFitChick
Pinterest: BrooklynFitChick
You Tube: BrooklynFitChick1