What Did We Learn This Month?
 Fitness
November/December 2014
Who Is on the Cover of Fitness this Month?
Daphne Oz who is a co-host of The Chew and author of Relish and in this interview she talks about what is it like to try to bounce back after giving birth to her daughter Philomena in February.
Daphne is not interested in being celebrity magazine cover star that loses her baby weight in two weeks. She would rather eat right, breast feed her daughter and take a healthier approach to living life than worrying about "getting her old body back" thankyouverymuch.
In this issue we also get some of her favorite cooking tips and recipes as well.
What Do We Learn This Month in Fitness?
"Be a Speed Machine"
If you are planning to keep to treadmill workouts over the holidays you might want to take along this workout from David Silk of Equinox and plan to get a good sweat going.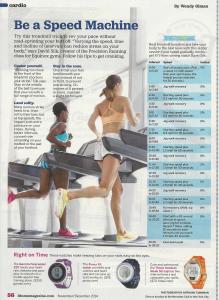 "Fitness 2014 Gift Guide"
Fitness editors offer their top picks for holiday gift giving and I have my eye on that adorable pizza cutter from UnCommonGoods.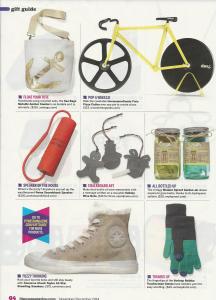 "Tone Your Trouble Zones"
Lately I have been reading all about this new gym called ModelFit and owner Justin Gelband and now I am curious enough to try his workout featured here which is a "super sculptor."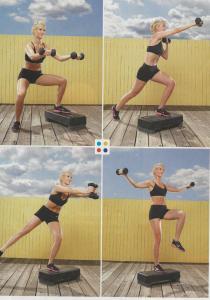 "Express Workout: PiYo"
Do you PiYo? I have so many friends who love these DVDs which are a combo of yoga, Pilates, and body weight strengthening moves that I may have to try this workout as well!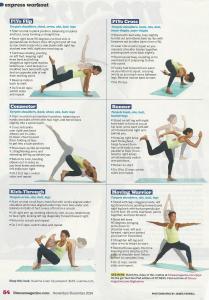 And now the rest of this issue of Fitness:
"The New Nutrition Myths" Fitness talked to the "top nutrition pros" to talk about food fads such as high protein diets, the wonders of coconut oil and the perils of gluten.
"Get More Done!" This is me asking—can someone please come to my apartment and teach me how to GET MORE DONE? I sorely need the tips featured in this article.
Overall Grade:
A- There are some pretty great workouts featured here plus healthy recipes for holiday entertaining so go grab this issue.
You can follow Fitness magazine at www.fitnessmagazine.com
(If you are reading this on a different site or a different feed than Brooklyn Fit Chick, it has been taken without permission.)
Until next time…
Ox Ox,
BFC
Brooklyn Fit Chick
Follow me on Twitter: "BrooklynFitChik" (note the spelling!)
Instagram: BrooklynFitChick
Pinterest: BrooklynFitChick
You Tube: BrooklynFitChick1