What Did We Learn This Month?
 Women's Health
January/February 2015
Women's Health Cover Star for January/February 2015: 
Stop the presses! It's Britney Spears on the cover and looking as lovely as ever. The superstar is in the middle of a big Las Vegas contract with Planet Hollywood Resort and Casino (remember when Planet Hollywood was a thing?) and very busy taking care her growing boys Preston (9) and Jayden (8.)
To keep her truly amazing bod in shape Britney doesn't feel the need to rely on pricey trainers or fad diets—she is rather self-motivated. At home Brit Brit has a full gym has a full gym at her disposal and she is quite disciplined in making herself do cardio & weights most days of the week.
On her "gym" days she is a big fan of Totally Drenched classes which is a combination of treadmill workout and circuit training and seems exhausting to me! Britney also swims laps and does power yoga when she can so let's say she is NOT a slacker and move on.
So what else is in this issue of Women's Health? 
15-Minute Workout "Plank On It"
Looking to amp up your plank routine? Well I love this one from David Kirsch which certainly challenged me!
Your Body on a Bender
Do any of you watch Real Housewives of Beverly Hills because Brandi needs to read this article, STAT!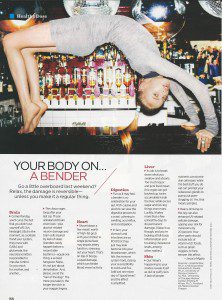 "The Next Fitness Star"
Women's Health magazine picked their second "Next Fitness Star" and it is former Real World alum Emily Scromm. She looks adorable and appropriately badass here. I am giving away her first workout DVD soon so check back here to find out how to win!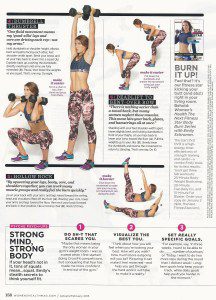 "Get Fit Tricks"
Simple tweaks to basic moves can bring amazing results–so do them!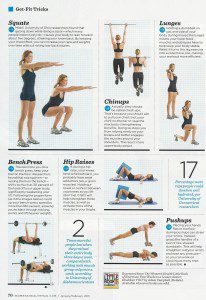 And now the rest of the best of this issue of Women's Health:
"The Health Food That Isn't?" We are all told to each more fish if we want to live longer but did you know that "fish fraud" is a thing? I really appreciated this feature!
"2015 It's Gonna Rock" My 2014 was a big bucket of "meh" so I am taking these life hack lessons here by reporter Faye Penn to heart so I can see my mood improve.
Overall Grade:
A  Really good workouts and smart features make this my favorite magazine this month!
You can check out Women's Health online as well: www.WomensHealthMag.com
(If you are reading this on a different site or a different feed than Brooklyn Fit Chick, it has been taken without permission.)
Until next time…
Ox Ox,
BFC
Brooklyn Fit Chick
Follow me on Twitter: "BrooklynFitChik" (note the spelling!)
Instagram: BrooklynFitChick
Pinterest: BrooklynFitChick
You Tube: BrooklynFitChick1