What Did We Learn This Month?
 Women's Health
March 2015
Women's Health Cover Star for March 2015: 
Are you House of Cards fanatic like me? Because if so, then you were happy as I was to see Kate Mara (whose character didn't quite make it through season two) on the cover.  The 5'2" actress talks more about fashion that fitness here but does admit to being a "maniac about exercise who can six miles before 9 am and then take a barre class later (color me impressed and exhausted by that information.)
So what else is in this issue of Women's Health? 
15-Minute Workout "Sculpt a Better Butt"
If you have one of those long rubber bands with handles and are looking for some new moves to work your glutes—check out this routine from Jim Smith of Diesel Strength in Elmira. NY.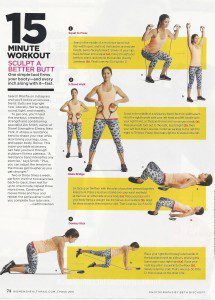 "Race Day Essentials"
I am planning on going on my first race sometime this year so I am keeping this page on file to know what to bring that day.

"Master This Move"
If you are looking for a strength coach who really knows their stuff—pay attention to Jen Sinkler who is incredibly knowledgeable and relatable.  Here she offers tips for the "just right" deadlift. Good stuff!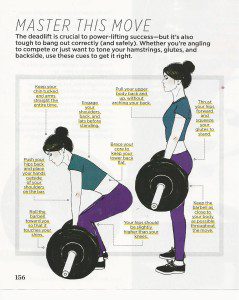 "Really Rad Workout Clothes"
There are a few pages here filled with the cutest most colorful gear ever—really! My workout wardrobe needs an update and these items give me pause.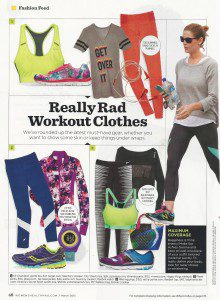 And now the rest of the best of this issue of Women's Health:
"Now This is What We Call Healthy Competition" Looking for ideas to up your workout and have some fun? Women's Health talks about all kinds of races that are offbeat and cool.
"Hot-Bod Weapon" Have you heard of Shaun T's Insanity workouts? (The answer has to be yes—he is featured everywhere!) He offers some moves based on his newest DVD series Insanity Max 30.
Overall Grade: A  Great workouts, cool beauty stories and smart articles in the March issue. Go get it!
You can check out Women's Health online as well: www.WomensHealthMag.com
(If you are reading this on a different site or a different feed than Brooklyn Fit Chick, it has been taken without permission.)
Until next time…
Ox Ox,
BFC
Brooklyn Fit Chick
Follow me on Twitter: "BrooklynFitChik" (note the spelling!)
Instagram: BrooklynFitChick
Pinterest: BrooklynFitChick
You Tube: BrooklynFitChick1