What Did We Learn This Month?
 Fitness
May 2014
What Do We Learn This Month in Fitness?
Fitness Cover Star for May:
Serena Williams! I cannot begin to tell you how happy it makes me to see one of the Williams sisters on the cover. Serena is fierce competitor who has overcome illness and injuries that laid her out for over two years to become the number-one world ranking tennis champion.
The secret to her success is pretty simple—she uses of her on-court personae. The Serena that plays tennis is tough, single-minded, focused and in her own words "just not nice." Which she says is about three hours of her day. The rest of the time she is a self-described "class clown" who enjoys karaoke, silly pranks and is eager to learn Korean in time for the next Summer Olympic games.
Best thing I learned in this interview—one of Serena's favorite songs is Maneater by Hall & Oats. How great is that?
"Express Workout"
You just need a box to work out on for this circuit created by Adam Kant of Intrepid Gym in Hoboken, NJ.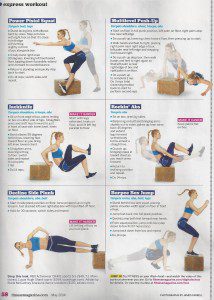 "Fitness Better Body Plan"
Trainer Tiffany Rothe created three 15-minute workouts that utilizes your body weight (and a towel!) to get a quick overall workout you only need to fit in three times per week to get results.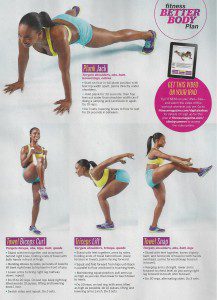 "Eat Your Water"
If you are looking for tasty ways to get more water in your diet—this chart will help!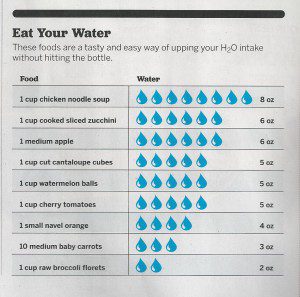 "Data Crunch"
Fitness looks at the latest in portable tech gear to track your workouts to help you decide which one is right for you. (I personally love my SparkPeople Activity Tracker.)
And now the rest of this issue of Fitness:
"Bad Habits Gone Good" Sometimes what seems to be a "vice" can really be good for you such as chocolate—yum!
"The New Milky Way" The lowdown on moo juice alternatives including coconut, almond, soy and hemp milk.
Overall Grade:
A!  This issue made me all kinds of happy. Go get it!
You can follow Fitness magazine at www.fitnessmagazine.com
Until next time…
Ox Ox,
BFC
Brooklyn Fit Chick
Follow me on Twitter: "BrooklynFitChik" (note the spelling!)
Instagram: BrooklynFitChick
Pinterest: BrooklynFitChick
You Tube: BrooklynFitChick1