What Did We Learn This Month?
 Shape
January/February 2015
Shape Cover Star for January/February 2015:
Jada Pinkett Smith (Gotham) who is in phenomenal shape and is my new inspiration to not slack off on my workouts this winter. The badass actress has a "hit it & quit it" attitude with the gym with just 30 minutes of cardio per session followed by a quick strength-training sequence that emphasizes high reps versus heavy weights.
You can check out some of Jada's favorite moves inside the magazine, take a look!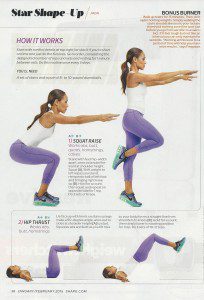 What else is in this issue of Shape?
"The Journey After the Journey"
What a delight it is to see my blogger buddy Brooke Birmingham inside Shape magazine! Brooke is just about the loveliest person you can ever meet which makes her amazing enough on its own. On top of that she lost 172 pounds through diet and exercise.
Brooke is in a round table discussion/article with other five other women who have lost a significant amount of weight (Dacia Root, Francelina Morillo, Ashley Donahoo and Heather McNally) and they talk openly about the wonderful and stressful changes that have happened since they began their weight loss journey. Very inspiring!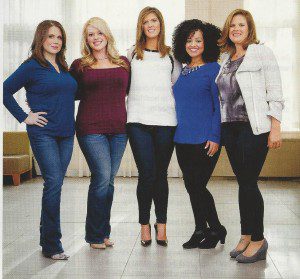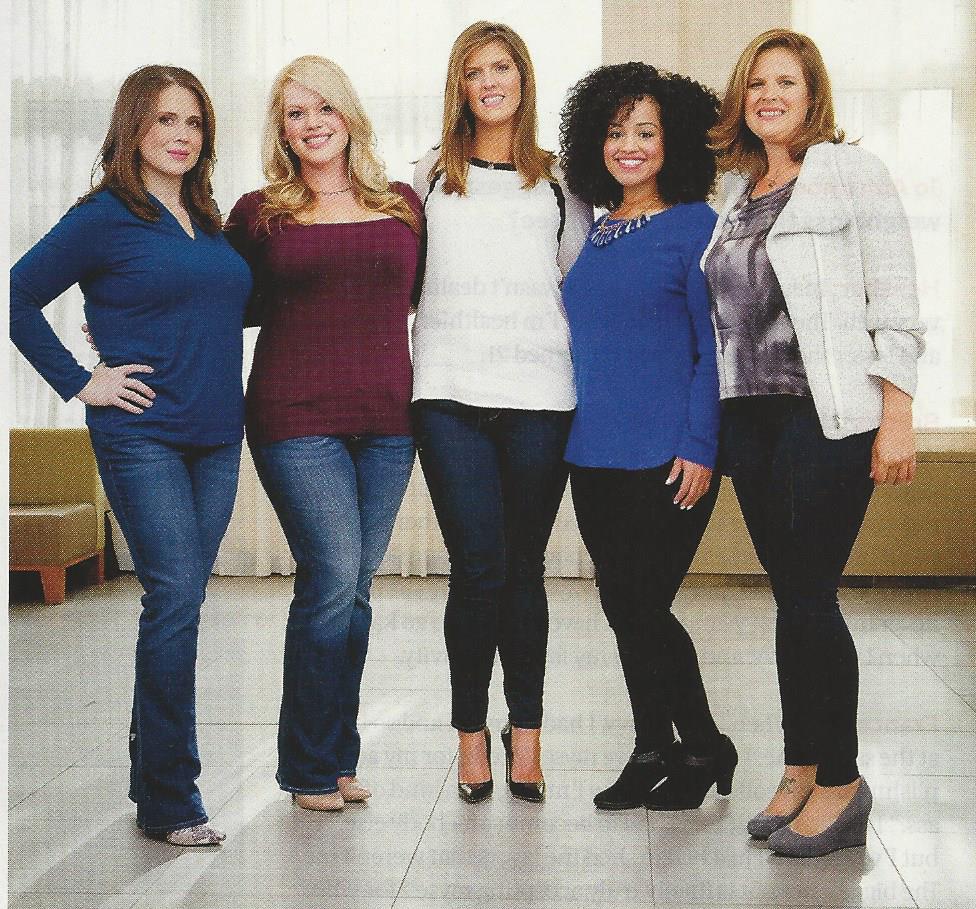 "Dance Off the Inches"
I am a terrible dancer, like "Elaine from Seinfeld" bad , but I appreciate those who can do it well (like trainer Anna Kaiser of AKT in Motion studios) who demonstrates a few dancy/strength moves you can do on your own.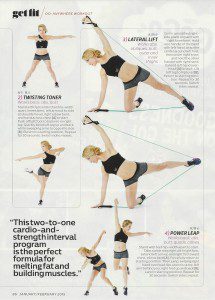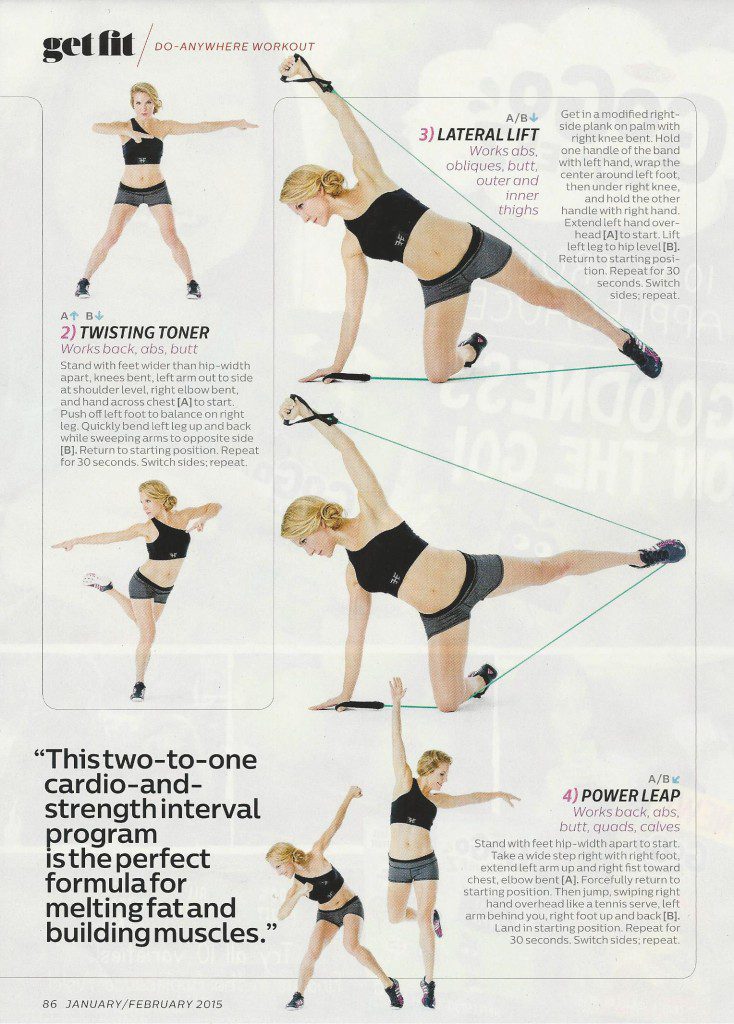 "8-Minute Fat Blast"
Do you Tabata?  Beacuse if you do and you are looking for a new workout—try this one from Kathy Glabicky of Tread Tabata which you can do in record time. She uses a combination of treadmill and Plyo moves so take this page with you to the gym.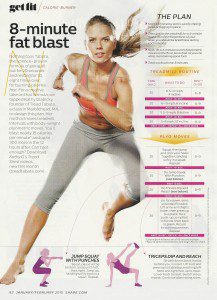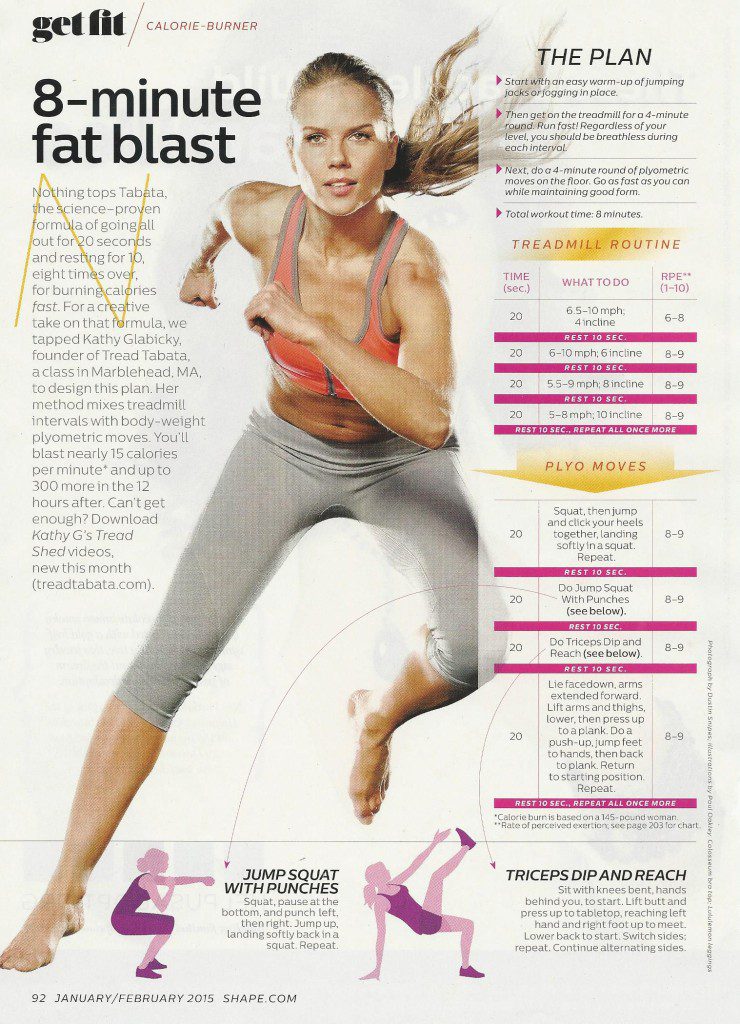 "Slope Style"
Skiing is not my thing but something about ski gear says "yes" to me.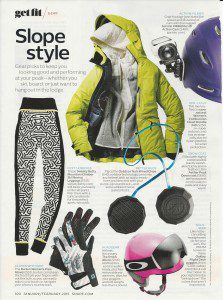 "Hello, New Body"
The Biggest Loser was very smart to hire Jennifer Widerstrom because she is a kick ass trainer who wants women to aspire to be strong and not skinny. Here she gives her own, personal four week plan to get you in great shape without crazy equipment needs or a big time suck.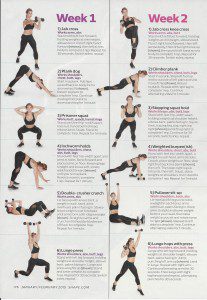 And now the rest of the best of this issue of Shape:
"Winter Sports Special" Shape looks into skiing and snowboarding and offers advice for beginners.
Camille LeBlanc Bazinet: The 2014 CrossFit champ offers her best advice on how you can reach your fitness goals.
Follow Shape magazine online at: www.Shape.com
Overall Grade:
A The January/February issues has some of the best workouts I have seen in a while. Plus, they were smart enough to feature Brooke Birmingham!
(If you are reading this on a different site or a different feed than Brooklyn Fit Chick, it has been taken without permission.)
Until next time…
Ox Ox,
BFC
Brooklyn Fit Chick
Follow me on Twitter: "BrooklynFitChik" (note the spelling!)
Instagram: BrooklynFitChick
Pinterest: BrooklynFitChick
You Tube: BrooklynFitChick1