What Did We Learn This Month?
 Women's Health
December 2015
Hi All! I have been crazy busy lately and not able to get into my monthly reviews but am turning that around as of today. So let's get it started!
Women's Health Cover Star for December 2015: 
One of the problems I have with cover interviews sometimes is that I just have NO idea who the person is so the motivation to read the whole thing can wane.
Sooo confession time…I am not a fan of Games of Thrones. Trust me when I say I have tried several times to watch but I can never keep track of the various characters or why I should love or hate them. (Fargo is my one show that has a labyrinth of a plot I can follow.)
Also it takes place in a time and place that feels unbearably stark and depressing to me. Much respect to those who are big fans but this is one show I am taking a pass on.
Anyhoo—actress Natalie Dormer is from the show as well as a recurring role in the Hunger Games movies and reading her interview she sounds like a super cool chick. Dormer is a super fit gal who loves running and is in fact training for the 2016 New York City Marathon on behalf of the charity "Team for Kids" (Go Natalie!)
She also practices yoga as often as she can and hikes in crazy places like Peru's Inca Trail and Tanzania's Mount Kilimanjaro. (Wow!)
That's all I have for this part so let's keep on moving, shall we?
So what else is in this issue of Women's Health? 
Home Bar
Leave it to the Irish girl to love the story about booze the most but after attending so many holiday parties lately I realize I need to up my home entertaining game. The suggestion for a cocktail making tray filled with goodies is really appealing.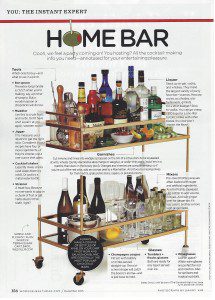 "15-Minute Workout: Go With the Flow"
If the holidays are driving you crazy (please tell me I am not the only one!) then try this 15-minute yoga workout from Yogalosophy author Mandy Ingber. You will be achieving your chi in no time!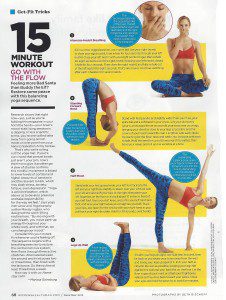 "Let's Do This!"
Idalis Velazquez offers several options here to create a quick workout that you can do a la carte. I love workouts that are both quick and effective and this section does the trick for me!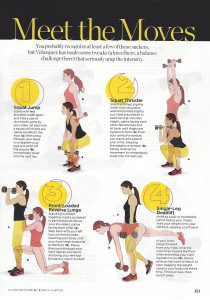 Gift Guide
The annual holiday gift guide is FILLED with page after page of goodies that give me a big case of the "I Wants" including this Handcase Desktop Pillow. I wish it was invented back when I was in high school and tried to nap in study hall! (It must work great on a plane as well. Ooh, how I would love this for me next red eye flight…)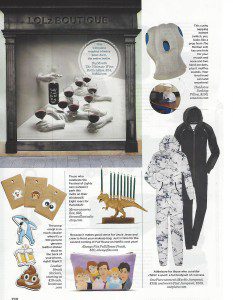 Also, the gift guide features these DOPE Vincent Camuto boots making me most happy.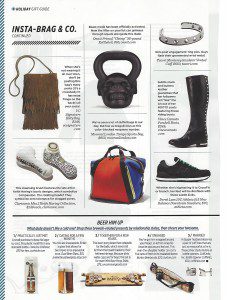 And now the rest of the best of this issue of Women's Health:
"One Bowl Wonders" I love eating out of a bowl but I get so sick of soup. Not only is it never filling but it also doesn't have much nutritional value so l liked the recipes featured here. Might make some amaranth this weekend as a matter of fact!
"James McEvoy" Really short interview here with the dreamy Scottish actor who says his favorite city would be a combo of NYC and Montreal (me too!) and his favorite song to sing in the shower is 'Ship to Wreak" by Florence + the machine (me too!) So it appears we are perfect for each other. (A girl can dream, right?)
"Where's the Beef" Going meatless can help you lose weight and boost your life expectancy. But can it also raise your anxiety and depression levels? Women's Health takes a look at new research on vegetarianism and mental health issues.
Overall Grade:
A-  Great issue filled with so many workouts and shopping pages it made my day!
You can check out Women's Health online as well: www.WomensHealthMag.com
(If you are reading this on a different site or a different feed than Brooklyn Fit Chick, it has been taken without permission.)
Until next time…
Ox Ox,
BFC
Brooklyn Fit Chick
Follow me on Twitter: "BrooklynFitChik" (note the spelling!)
Instagram: BrooklynFitChick
Pinterest: BrooklynFitChick
You Tube: BrooklynFitChick1