What Did We Learn This Month?
 Fitness
September 2014
What Do We Learn This Month in Fitness?
"Om Body"
Yoga guru to the stars Bizzie Gold (honestly—how much do you LOVE her name) demonstrates some of her favorite power yoga moves which you can do just about anywhere.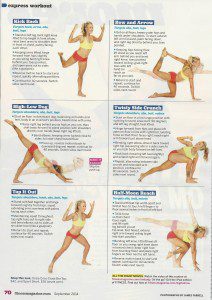 "Change Your Terrain"
Fitness had the experts chime in on what changes you need to make for trail running vs. pounding a flat pavement plus, a workout to "boost balance and core strength."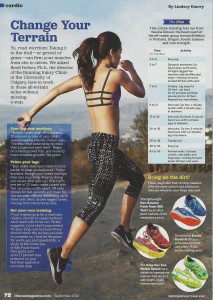 "Hot Stuff"
A super fun shopping page filled with bright things that gives me the "I wants."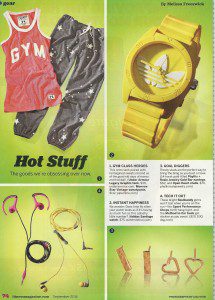 "Boost Your Burn"
If you are looking for "full body supermoves" than be sure to check out this workout from the folks at Soho Strength Lab that will help get your heartrate up while several muscle groups at once.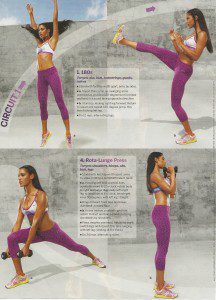 And now the rest of this issue of Fitness:
"Happy Everest After" Writer Melissa Arnot talks about her world travels (which includes FIVE trips to Mount Everest) and how marriage has affected her view of herself and relationships in general.
"Action Figures" Eight women are featured here who get "paid to get fit" including an acrobat, "sweat tester" and a "snow queen." Really!
"Weight Loss Confidential" Think your life will be perfect once you lose the extra weight? Guess again as real peeps talk about what can really happen to your body after a dramatic weight loss.
"Toots, Poops and Other Oops" Directly from this article "a woman's colon is longer and has more twists and turns than a man's…' so guess what they are talking about here!!!
Overall Grade:
A  The perfect way to welcome new adventures in the fall is to check out the September issue.
You can follow Fitness magazine at www.fitnessmagazine.com
Until next time…
Ox Ox,
BFC
Brooklyn Fit Chick
Follow me on Twitter: "BrooklynFitChik" (note the spelling!)
Instagram: BrooklynFitChick
Pinterest: BrooklynFitChick
You Tube: BrooklynFitChick1