Brooklyn Fit Chick News & Notes
BlogHer 15 NYC Dates Announced
Fit Bottomed Girls "Tips for Your First Kettlebell Class," My Terry Bikes Spring Picks,
P!nk Handles Mean Tweeters, Tapgenes.com Talks Eating Disorders
 Plus: Book Vs Movie" Podcast The Outsiders!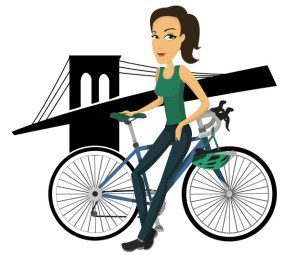 Hey there! Hi there! Ho there!
How are you all doing today? It's a brand new week and though I feel a wee bit short of my personal fitness goals (I may have slacked on my foam rolling a bit…) but this warmer & sunny weather has put an extra spring in my step. Doesn't seeing the sun out nice and bright in the sky improve your outlook? It sure does mine and with that I am resolving to get back to foam rolling and stretching every night not only it makes me feel better but it also helps me perform better as a teacher.
So now that I am saying it OUT LOUD—it will have to get done! If it kills me I am going to increase my flexibility and strength. You are all my witnesses! Now that THAT is out of the way—let's go through my weekly news & notes. (And for those 3 of you miss my Vlog—next week I promise to deliver with a cool, new giveaway. Pinky swear!)
Brooklyn Fit Chick News & Notes
Tips from the Pros on "Kettlebells for Beginners"
If there is one strength-building piece of equipment that really helps to build muscle while also providing an excellent cardio workout it's the kettlebell. For Fit Bottomed Girls I wrote "Tips for Your First Kettlebell Class" so I would know how to use mine better when working out on my own.
Do you use kettlebells? What is your favorite advice for newbies?
Terry Bikes Spring Gear:
Some of you may know that I am a BIG FAN of Terry Bikes and somehow got the gumption last year to approach them as their first brand ambassador. Luckily they said yes so I get to try out their latest gear and let you know what you need to add to your next bike ride. In this post for them I picked my favorite spring items from their catalog. Enjoy!
BlogHer 15 Conference Set for NYC:
Have you heard the news? BlogHer will be back in NYC July 16-18 for their "Experts Among Us" BlogHer 15 Conference. I know I will be there but if you want more details check out this link to see who will be speaking there. (They always manage to get GREAT special guests at BlogHer events!)
BlogHer & SheKnows are also teaming up for a road show (I was invited to the Brooklyn event last week and had a blast!) If you live anywhere near the following markets—you should absolutely go (it's free!)
April 24: Atlanta, Georgia – 5:00 p.m.
May 3: Chicago, Illinois – 5:00 p.m.
May 8: San Francisco, California – 6:00 p.m.
May 9: Boston, Massachusetts – 4:00 p.m.
To RSVP for one of these great parties, email Marketing@SheKnows.com
Body Shaming of P!nk:
I don't know if you heard of this story but one of my favorite singers, P!nk, attended an event this past weekend looking totally beautiful. Well because we live in an internet age there has to be a body-shaming wave headed by mean-spirited trolls tried to make her life miserable. Well if you know anything about P!nk you know that she is non-nonsense and expertly handled all of the mean tweets thrown her way. Do you think we will EVER live in a world without trolls?
How I Learned to Love Eating:
I really loved this article from Tapgenes.com talking about recovery from eating disorders. Tapgenes.com interviewed two amazing women who talk about the toll it took on their bodies and how they have successfully deal with their individual disorders. This is a definite must-read!
Book Vs Movie Podcast:
Margo Porras of Shes Nacho Mama's Blog and I talked about The Outsiders in our newest episode of our podcast "Book Vs. Movie" and had a fabulous time doing it. You can check us out in the player below and in case you are wondering what will be the subject of our next episode—get ready for us to dissect The Stepford Wives! Woot Woot!
That's all I have for today—keep checking back for news, reviews and playlists aplenty! Thanks as always for dropping by!
(If you are reading this on a different site or a different feed than Brooklyn Fit Chick, it has been taken without permission.)
Until next time…
Ox Ox,
BFC
Brooklyn Fit Chick
Follow me on Twitter: "BrooklynFitChik" (note the spelling!)
Instagram: BrooklynFitChick
Pinterest: BrooklynFitChick
You Tube: BrooklynFitChick1