What Did We Learn This Month?
 Oxygen
September 2014
What Did We Learn This Month in Oxygen?
Erin Stern/Glute workout:
Cover star Erin Stern has not competed in figure competitions in several years and is instead focusing on her own E3 brand (Empowering, Educating and Enriching) with ebooks, speaking gigs, fitness camps, and seminars.  In this issue she shows off her best glute moves.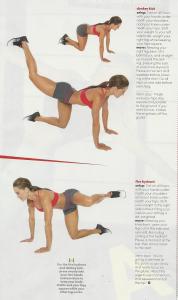 "Perfect Practice"
Oxygen gives a full page of "om-worthy" items to take to your next yoga session. (The Gaiam Thirsty Yoga Towel looks pretty nifty as a matter of fact!)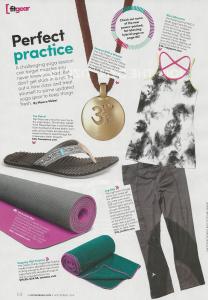 "Fat Loss Food of the Month:Apples"
A few weeks ago I read a very smug tweet where the trainer bragged about never eating apples and would rather have their clients "eat sugar cubes" instead. (Jerk!) I happen to love apples and this guide to the most common types on the market made me happy.
If you have exactly five minutes for a core workout—check these out from fitness editor Lara McGlashan (CPT.)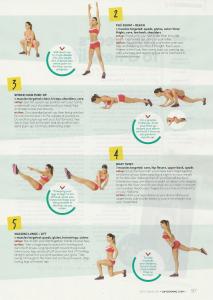 "Crazy Fit Crazy Fast"
TRX Suspension training is a fantastic way to develop muscles and increase your movement. Just make sure to work with a qualified trainer, however to avoid injury!

And now the rest of this issue of Oxygen:
"Hybrid Yoga" Oxygen explores all different types of yoga classes now on the market inlcuing SUP yoga, Core Fusion, "Koga" and YogaHit to name a few.
"21 Rules for Clean Eating" My clean-eating hero Tosca Reno gives her best advice.
"1 Chicken Breast/6 Ways" The boring protein can now be just a little more exciting if you try these recipes.
Overall Grade:
B+ Good workouts but once again—I was hoping for more content and "news I can use." Maybe next month?
You can follow Oxygen magazine at www.Oxygenmag.com
(If you are reading this on a different site or a different feed than Brooklyn Fit Chick, it has been taken without permission.)
Until next time…
Ox Ox,
BFC
Brooklyn Fit Chick
Follow me on Twitter: "BrooklynFitChik" (note the spelling!)
Instagram: BrooklynFitChick
Pinterest: BrooklynFitChick
You Tube: BrooklynFitChick1