Brooklyn Fit Chick Review: Tria Hair Removal System
My History with Bad Beauty Technology and My Newfound Love for Lasers!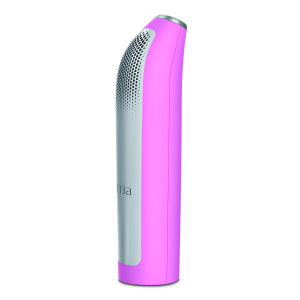 Hey there! Hi there! Ho there!
It's been a while since I did a gear review so it was a wonderful surprise when the makes of the Tria Hair Removal Laser Precision followed with me after our meeting the Fitness magazine NYC conference. I dropped by their booth to talk about laser hair removal as I have had a few beauty-related mishaps in my life and wondered what made their product more effective and safe than other methods I have used to remove unwanted hair. Here is a brief history of hair removing and my weird/back luck coming into play:
Bleaching: I used to bleach my upper lip to this buttery shade which I thought was safer and cheaper than waxing and just as effective. This is without realizing that on my super fair skin a blonde hairy lip would look a bit odd in certain types of light. One day my friend's adorable 5 year-old boy and I were hanging out at a backyard picnic when he leaned really close to me and said to everyone nearby "Guys—Margo has a mustache and it's yellow!" Needless to say I dropped bleaching and turned to waxing my upper lip.
Waxing: Humiliated by the worthless bleaching I finally got up the nerve to try waxing and was very happy with the results. It became my regular bi-weekly appointment for a couple of years when one day during a treatment the beautician inhaled deeply, put her hand against her mouth and said "Oh my god—so sorry!" as she backed away from me. I had no idea what she was talking about until the next day when I saw that above my lip and under my nose were two horrific burns that made me look like I had a red, scaly mustache.
The real problem? I worked in retail at the time and it was during the holiday season. Let's just say it I harder to sell high end boots and pumps with a scab-filled face. (Bye bye waxing!)
Gels: Back in the 90s there was a popular infomercial touting the benefits of "Nads"—an Australian product which worked as a wax but did not burn your skin. One of the models in the commercial made a point of losing her dreaded "hairy arms" with the use of Nads and that is stayed smooth for weeks afterwards. Voila! I was going to buy me some Nads and get rid of unwanted hair in my home while saving money on beauty salon visits. Win/win, right? Diligently I poured the goopy mess over my arms and proceeded to pull off each strip one at a time with a feeling akin to those "rub burns" mean kids would give each other at school. I mean OW, people.
While my arms looked smooth and hair-free they were also yellow and blue from bruising. I had ugly bruises going up and down each arm causing me to wear long sleeves in the middle of summer for several days which is quite uncomfortable. Lesson learned—no more Nads for me.
Threading: A few years I gave threading a try for my upper lip and brow area which is mostly successful except it almost always leaves me with pimples and red dots exactly where the grumpy thread-tition worked on me.
So you can see I was excited to learn about a hair removal system that is easy-to-use and will not cause bruises, burns or zits!
The Tria is amazingly easy to apply and I have been using it on my upper lip, under arms and right around my ankles where I get annoying dark hairs (shaving them has caused more than one awful cut in my lifetime.) The hair in those areas is definitely fading away and I am thrilled with the results so far. It retails for $299 which I know is a big investment but if you regularly pay for waxing or threading you may want to invest in a laser technology that is much more effective in the long run and won't harm you.
Here is their official video so you can see how they work. You will want to buy one!
Hit me up with any questions you have about his product. I was not paid for this review and Tria did not manage the messaging of my post. (They did send me product for free but did not write or edit this post.)
(If you are reading this on a different site or a different feed than Brooklyn Fit Chick, it has been taken without permission.)
Until next time…
Ox Ox,
BFC
Brooklyn Fit Chick
Follow me on Twitter: "BrooklynFitChik" (note the spelling!)
Instagram: BrooklynFitChick
Pinterest: BrooklynFitChick
You Tube: BrooklynFitChick1