What Did We Learn This Month?
Recaps of Bicycling, More and Muscle & Fitness Hers
 Hey there! Hi there! Ho there!
We are right in the middle of summer here and I am experiencing magazine doldrums here. Most produce July/August issues so it might be a little light on the review and recap side on my blog for the next couple of weeks. (Oh when do those September issues arrive already?)
Anyhoo—I did find a few that I enjoyed this month so let's just dive into them today and have some fun, shall we?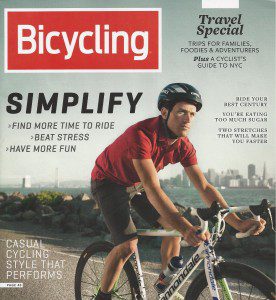 Bicycling: September 2013
"Sugar Shock" According to the New York Times food editor Matt Bittman sugar being added to our foods is "the biggest public health challenge facing the developed world."  Bicycling magazine talks about how the sweet stuff will affect your rides and how to keep an eye on sugar and carbs.
"Take a Look" Loved this photo spread here which features cute bicycling fashions.  (Yes, they CAN be cute fashion creators!)
"City Guide: New York City" Now you know I have check out the "Brooklyn Ramble" section which featured in this article!
"Southern Comforts" Have you ever heard of the "Tour d'Epicure" which takes place in the Blue Ridge Mountains? It sounds totally amazing!
"The Basics of Shifting" Honestly, I wish someone would have given me this advice on how to shift into gears properly when I first began to ride!
Check out Bicycling online here: www.bicycling.com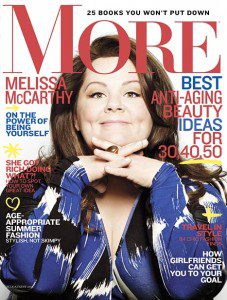 MORE: July/August 2013
Charlotte Rampling: One of my biggest style icons talks about dancing in Mary Quant skirts (sigh!) in the 60s and her "not getting married" code of freedom. (LOVE this woman!)
"Foods that Age-Proof Your Brain" The things you need to eat and drink every day in order to stay mentally sharp.
Melissa McCarthy: Have any of you seen The Heat yet? I need to check it out but loved this interview with the actress in the meantime.
"Summer of Self-Discovery" If you are looking for books to dive into this summer—this article had some great ideas!
"She Got Rich Doing What?" MORE features incredible women who have made their bones doing everything from creating stylish fanny packs to making theater backdrops. Go Ladies!  
Check out MORE online www.more.com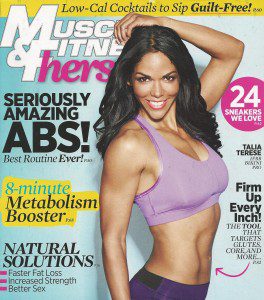 Muscle & Fitness Hers: July/August 2013
"Must-Try Move…Great Glutes" Advice on how to make your backside higher and tighter from Nathalia Melo (IFBB Bikini Pro,) Essence Monet (IFBB Figure Pro) and Bella Falconi (Fitness Model.)
Terry Crews: The smoking hot actor from HBO's The Newsroom talks about his fitness motivators and the secrets to his 24-year marriage. (Does he have a brother?)
"Shortcut to Amazing Abs" Excellent moves from IFBB Bikini Pro Talia Terese.
"8-Minute Metabolism Booster" Five different moves from Icelandic CrossFit star Annie Thorisdottir.
Rutina Wesley: Tara from True Blood is played by an actress with arms I am working my tail off to get. Rutina avoids sugar and junk food when filming her sexy vampire series.
Check out Muscle & Fitness Hers online here: www.muscleandfitnessher.com
That's all for me today. Let me know what you are reading this month!
Until next time!
Ox ox,
Brooklyn Fit Chick
(BFC)
Follow me on Twitter: @BrooklynFitChik (note the spelling!)
Friend Me on Facebook: "Brooklyn FitChick"
Instagram: "brooklynfitchick"
You Tube: "BrooklynFitChick1"