What Did We Learn This Month?
 Oxygen
June 2014
What Do We Learn This Month in Oxygen?
Sarah Grace
The cover model for the June issue is Sarah Grace who used to be a boxer and fitness competitor and is now a personal trainer. Boxing taught Sarah not to be afraid of confronting a challenge and who now counts CrossFit as her new obsession.
In this issue she knows offers some of her favorite moves for strength and agility.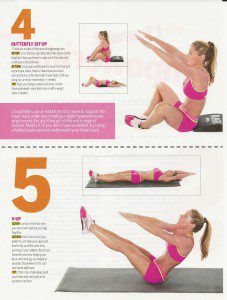 "5 Foods That Boost Your Brain Power"
Does you noggin need some brain food? Be sure to add these to your grocery cart STAT.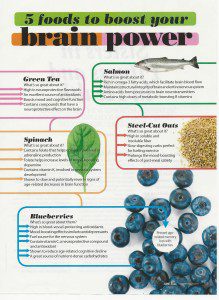 "Post Workout Fast Fixes"
Oxygen put together this list of "go-to" items in your gym bag to make you feel fresh as a daisy after working out. (I need all the help I can get in the summer time—amIright gang?)
Not to brag or nothin' but I have worked out with former IFBB Fitness competitor Abbie Appel so imagine how happy I was to see her mentioned as the creator of the back workout in this issue. Yay Abbie! (Below are a series of stretches you should be doing from now on.)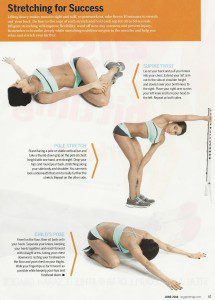 And now the rest of this issue of Oxygen:
"Fiber on Cylinders" One part of my diet I am trying to figure out better is the amount of fiber I actually need to consume each day so this feature which lists the fiber content from figs to apples to black beans is most helpful.
"Hip Check" Tips for building stronger hips (my personal bugaboo) from Molly Galbraith of Girls Gone Strong.com.
Be a Power Couple: Heather Farmer (national-level Olympic lifter) designed this program for couples to mimic CrossFit WODs on their own and get into mighty fierce shape.
Overall Grade:
A- Top notch workouts and sound nutritional advice always make me happy!
You can follow Oxygen magazine at www.Oxygenmag.com
Until next time…
Ox Ox,
BFC
Brooklyn Fit Chick
Follow me on Twitter: "BrooklynFitChik" (note the spelling!)
Instagram: BrooklynFitChick
Pinterest: BrooklynFitChick
You Tube: BrooklynFitChick1