What Did We Learn This Month?
 Oxygen
August 2014
What Do We Learn This Month in Oxygen?
"Your Way to Harder Shoulders"
Cover star Lori Harder talks about her online Bliss 6-Week training program in the August issue of Oxygen and the fact that she lives every single day with a clear intention of what she plans to do that day.
Lori, by the way, has awesome shoulders and shows some of her favorite moves to keep them looking amazing.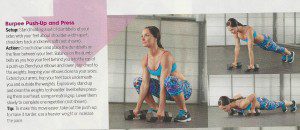 "Pumped-Up Planks"
I always say that planks are one of best exercises for your core but also one of the most boring. Take a gander here at a couple of suggestions to kick your next set up a notch.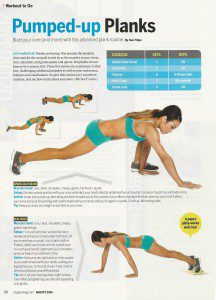 "6-Weeks to a Superb Chest"
Oxygen asked author Myatt Murphy, CSCS, to create a chest workout to maintain balance and strength.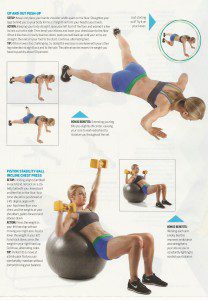 Kettlebell Workout
Kettlebells (when used properly) are excellent for helping build muscles and burn calories in a short period of time. Master trainer Alex Isaly created the circuit featured inside the magazine.
Going back to the whole "let's fancy up those planks" thinking—check out this Bosu sundial!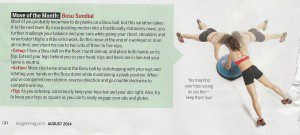 And now the rest of this issue of Oxygen:
"Time Your Carbs Right" The best time to eat all sorts of carbs including fast-digesting, low-digesting and fibrous.
"Age is No Brainer" Incorporating  the best habits for your age range to keep you strong and healthy.
"Stagger to Perfection" I don't see the word "perfection" that often in subject headlines but this staggered-set home workout is pretty great.
'Be Sun Savvy" The best gear to take along for an outdoor walk in the summer. (Go for it!)
Overall Grade:
B+ Good workouts but the issue was a little thin/lacking for me. Maybe next month they will come back to kick butt?
You can follow Oxygen magazine at www.Oxygenmag.com
Until next time…
Ox Ox,
BFC
Brooklyn Fit Chick
Follow me on Twitter: "BrooklynFitChik" (note the spelling!)
Instagram: BrooklynFitChick
Pinterest: BrooklynFitChick
You Tube: BrooklynFitChick1