What Did We Learn This Month?
 Health: December 2013
Health Cover Star for December: Bethenny Frankel The reality turned talk show star talks about dealing with life after her high profile divorce, the booming 'Skinnygirl" business and being a single mom in this Health interview. Her newest book Skinnygirl Solutions is on sale now. So what else is inside the December Health? Holiday Gift Guide Health offers an array of ideas for presents you want to see under your tree. (Hint, hint—I would love to see this Chai tank from New Balance!) Yes, I am assuming you are all like me and take the time to buy yourself something nice this time of year!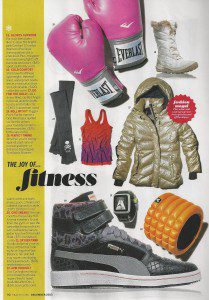 "Should I Try Barre Classes?' Yes—you damn well should and here are some cool moves from Marin Van Vleck of The Bar Method in Plano, Texas. (Trust me, the Diamond Thigh exercise will have you screaming for mercy!)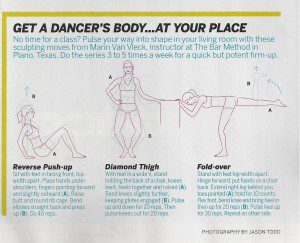 "Your Metabolism: A User's Guide" My metabolism has had its ups and downs so I always appreciate articles like this.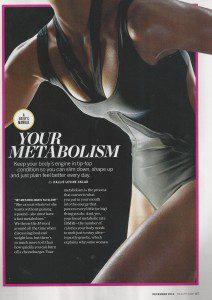 "8 Great Workout DVDs" Say you want to avoid the outdoors but need to workout—try one of the excellent DVDs featured here.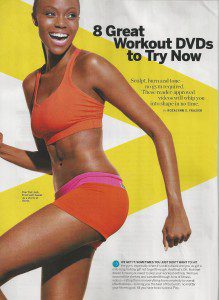 And now the rest of the best of this issue of Health:
"Top Yogurt Picks" A couple of dozen of the best brands are mentioned on page 112.
"Have a Cup of Coffee" (As if I need permission!)
"Is Your Smartphone Making You Fat?" Put down the cell once in a while and enjoy the world around you, people!
"Yes—The Most Filling Foods" Yummy foods that are healthy and will keep you feeling full.
"Stay Flu-Proof This Season" Tips for avoiding much-dreaded flu this year.
"Is Weight-Loss Surgery Worth It?" Excellent article about risks of lap band surgery.
Follow Heath online at: www.Health.com Overall Grade: B+ For months I have complained about the lack of workouts in Health and they listened! I counted three pages of them this month which made me happy. Plus, the gift guide is pretty damn nifty! Until next time… Ox Ox, BFC Brooklyn Fit Chick Follow me on Twitter: "BrooklynFitChik" (note the spelling!) Like My Facebook Page Instagram: BrooklynFitChick Pinterest: BrooklynFitChick You Tube: BrooklynFitChick1