What Did We Learn This Month?
 Shape
December 2014
Shape Cover Star for December 2014:
Julianne Hough (Dancing With the Stars) is a busy gal who tours with her equally famous brother Derek, and is creating a show with him called Blackpool which will be a ballroom dancing drama. In addition to her dancing & singing career Julianne acted in the Footloose reboot and (my personal favorite) the "so bad it is good" Safe Haven. (Get it on Netflix if you ever have the chance. She is fine in the part but the script is amazingly cheesy and awesome!)
The multi-hyphentate is also a workout fiend who keeps in top shape by getting at least 8 hours of sleep per night, eating healthy and dancing as often as she can (even on top of her two-hour shows!)
When home in Los Angeles she prefers works with professional trainer Astrid McGuire and you check out some of their workout in the pages of the December issue.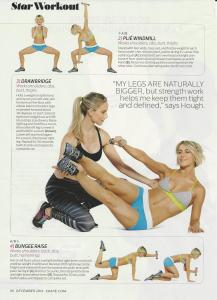 What else is in this issue of Shape?
"Long and Lean"
Sadie Lincoln is the founder of barre3 studio (there are over 70 locations!) and she offers to Shape a few exercises she prefers to keep her muscles "long and lean."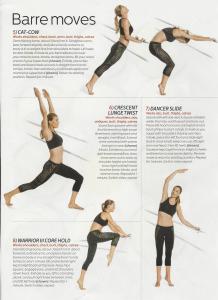 "Shape Gift Guide:Tone Up Fast"
I literally want every single item from this page. Every. Single. Item. (Who is going to be my Secret/Awesome Santa this year?)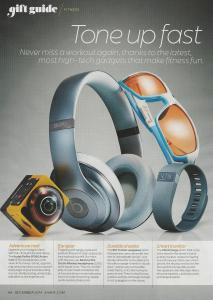 "Flat Abs Fast"
Every day it seems I reading more and more about New York City-based trainer Adam Rosante who has a book coming out in March called The 30-Second Body. Here he gives us his favorite moves to get your abs tight.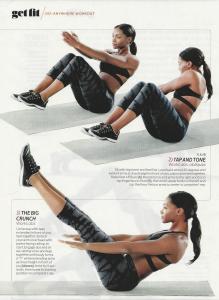 "Jump to a Hot Body"
If you ever want to watch me make a total fool out of myself—ask me to demonstrate the proper way to jump rope. I am sort of a deranged 4th grader when it comes to skipping rope and would rather NOT do it at such a high level.
However, I know it is a fantastic workout and this program developed by Punk Rope creator Tim Haft looks like it would whip anyone into fighting form,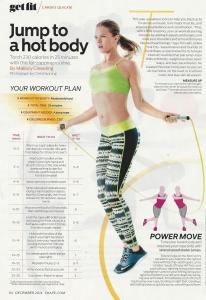 And now the rest of the best of this issue of Shape:
"How Can I Ramp Up Results to Get Toned Fast?" If you are looking to get your strength training up a notch—try out these tips from Shape expert Jay Cardiello.
"Pretty in Picturs" Good tips on how to take better selfies.
"Sneaky Health Threat: Your Vacuum" Did you know that Hoover can "spit bacteria and dust back into the room?" Well, you do now. (Cleaning out mine right now.)
Follow Shape magazine online at: www.Shape.com
Overall Grade:
A The December issue brought it big-time with the good workouts and useful information. Plus, the gift guide was tops!
(If you are reading this on a different site or a different feed than Brooklyn Fit Chick, it has been taken without permission.)
Until next time…
Ox Ox,
BFC
Brooklyn Fit Chick
Follow me on Twitter: "BrooklynFitChik" (note the spelling!)
Instagram: BrooklynFitChick
Pinterest: BrooklynFitChick
You Tube: BrooklynFitChick1