Brooklyn Fit Chick News & Notes Summer 2016:
The Launch of the Fit Bottomed Girls Podcast!
Best Core Workouts for Summer Sports and More!
Plus: Book Vs Movie 2nd Anniversary!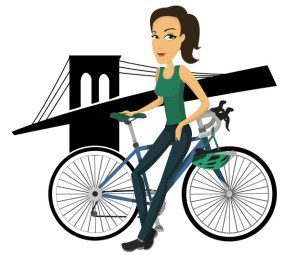 Hey there! Hi there! Ho there!
I can't believe how long it has been since I put up a new blog post but life got a little crazy, busy on the work side. The good news—I am working on a project I pitched to the Fit Bottomed Girls and we are really taking off with it!
A little over two months ago I pitched the idea of producing and co-hosting a podcast for Fit Bottomed Girls and now we are officially a thing which pleases me to no end. It's been a labor of love that has been taking up a great deal of my time this summer but I must say I am really proud of what we have created to far.
If you want to get more details, check out:
7 Reasons You Need to Subscribe to our Podcast where we go into why we decided to go down this new digital pathway.
For our first episode we spoke to Rebekah "Bex Life" Borucki and discussed with the meditation maven about how to find time  to meditate within a busy life and also what to do when you are feeling like you are in a funk. She was equal parts wise and hilarious—just as you picture her to be!
In upcoming shows, we will have USA Beach Volleyball champ April Ross (!), Shape magazine editor-in-chief Elizabeth Goodman Artis, yoga expert Kristin McGee,  dietitian Frances Largeman-Roth and Refinery 29's Kelsey Miller ("The Anti-Diet Project.")
Would love any feedback you have for us and/or if you have any suggestions for guests you want to hear on our new show—let me know in the comments below!
Fit Bottomed Girls Hits:
As some of you know—I am a NYC contributor for Fit Bottomed Girls as well as their new podcast diva and these are some of my favorite stories I have worked on recently for them.
Finally, I just wanted to mention that my friend Margo of She's Nacho Mamas Blog and me just celebrated the two-year anniversary of our podcast with a brand new Midnight in the Garden of Good and Evil episode. This is a "do-over" from our first few shows which were not up to our current standards. If you want to check it out—then here you go!
That's it for me this time. Enjoy the rest of your summer and I will be back with new playlist and more very soon. Promise!
(If you are reading this on a different site or a different feed than Brooklyn Fit Chick, it has been taken without permission.)
Until next time…
Ox Ox,
BFC
Brooklyn Fit Chick
Follow me on Twitter: "BrooklynFitChik" (note the spelling!)
Instagram: BrooklynFitChick
Pinterest: BrooklynFitChick
Check out my podcast here!