Brooklyn Fit Chick News & Notes:
Strong Fitness Magazine!
"Book vs Movie" Podcast News: The "Dad" in Field of Dreams Tweeted Us!
Fit Bottomed Girls Features: Tips for Your First Personal Training Session & a Classic Rock Playlist
Hey there! Hi there! Ho there!
How hot is it by you? Today we are sweltering in NYC which is not helping my outdoor workout schedule but I am going to soldier on because that is what a fit chick does, oui?
Today I am going to talk about a few fun things and check in with you at the same time because I am in need of real motivation and advice from y 'all.
My workouts have been so "meh' lately and I have not followed up on some of my goals for the year including increasing my flexibility and learning how to do a box jump. When my father passed away two months ago I have felt so much sadness that I am letting my health suffer. Not sleeping well and not really pushing myself to work harder. Have any of you experienced this kind of deep lack of motivation? Any advice you can give me?  I would love a fresh perspective on my fitness rut. Thanks in advance!
Now on to more fun things:
First I want to introduce to you all Strong Fitness Magazine which is the best glossy magazine devoted to women who really lift & workout. Their latest cover is up above and features Canadian CrossFit athlete Camille Leblanc-Bazinet looking mighty fierce both there an inside the magazine talking about her workout regimen.
Also in the July/August issue which I just received (as a courtesy from Editor in Chief Kirstyn Brown)
These yummy bacon recipes!
A feature on surfer Paige Alms
And a super tough core workout from Rita Catolino that you are going to have to check out for yourself! (Page 27)
As I said—this is a magazine for women who are serious about upping their PR game so if you are looking for "Flat Abs in Five Minutes" or come nonsense diet article you will not find it here. The pages are gorgeous and they feature top notch workouts. The only drawback is that it is a Canadian publication so you may have to go to Barnes & Noble or one of those fancy magazine shops to find it.
OR— you can order it digitally here!
In the meantime you can follow them on Facebook, Twitter, Instagram, Pinterest and Google Plus
Check them out and let me know what you think of Strong Fitness!
Brooklyn Fit Chick News & Notes:
Book Vs Movie Podcast News: Margo Porras of She's Nacho Mama's Blog co-host the "Book Vs. Movie" podcast (that you can subscribe to via iTunes at this link) recorded our Field of Dreams episode last and we have been getting amazing feedback on it. In fact, Dwier Brown who played Ray's dad (swoon!) even reached out to us on Twitter!
(Well—we kind of reached out to him and he politely responded but STILL!) You can follow him @dwierbrown and he also has a website www.dwierbrown.com.
Here is a photo of Dwier for your eyeball-seeking pleasure (you're welcome!)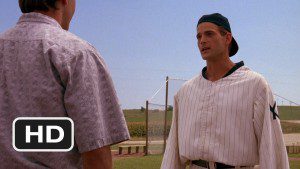 With our next episode we are going back to the 1950s with Stand By Me from Stephen King (also known as the novella The Body)
Margo and I are also planning our next few episodes so if there are any books & movies you want us to cover—feel free to comment below!
Fit Bottomed Girls Articles: As many of you know I am a proud "Fit Bottomed Girl" and contribute occasionally to the site with interviews, event recaps, playlists, et cetera. This past week I had two (count 'em two!) featured on the site–What to Expect from Your First Personal Training Session and my top picks for a Classic Rock Workout Playlist.
The former will help gym newbies and the latter will inspire you so much you will want to lighter and hang out at a coliseum. Rock on!
That's all for me this week. I will be back soon with magazine reviews, playlists, reviews and so much more. Stay in touch!
(If you are reading this on a different site or a different feed than Brooklyn Fit Chick, it has been taken without permission.)
Until next time…
Ox Ox,
BFC
Brooklyn Fit Chick
Follow me on Twitter: "BrooklynFitChik" (note the spelling!)
Instagram: BrooklynFitChick
Pinterest: BrooklynFitChick
You Tube: BrooklynFitChick1