What Did We Learn This Month?
 Shape
September 2015
Shape Cover Star for September 2015:
R&B pop star Ciara is on the cover looking fierce as she should because the woman worked out three hours a day for four months (really!) to lose the 60 pounds she gained after giving birth to her son Future in May 2014.
Now, the teacher & trainer in me wants to cry out 'that's too much stress on your body!" However—she is adult and that is her choice. So I will respect the fact she works in show business and has to look her best all of the time no matter what. (Oh patriarchal culture—be gone!)
Ciara likes boxing most of all for exercise and listens to entire albums and not singles for her workout playlist. (Madonna's Hard Candy is a big favorite.) Her personal trainer is Gunnar Peterson who works with just about all of the biggest celebrities in the world.
I think this is my favorite shot of her inside the magazine.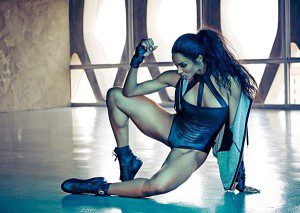 Fun fact about Ciara–she's "only 5'7" tall. Everyone assumes she is over six feet but nay!)
What else is in this issue of Shape?
Versa Workout
Have you seen a piece of cardio equipment called the VersaClimber? You climb on and adjust the handles and resistance to get a full body workout in a short amount of time. Shape features a workout for the VersaClimber that can burn up to 370 calories in just 22 minutes.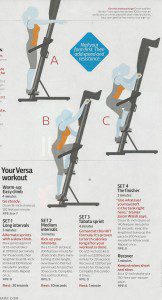 "Gear with Guts"
I am not exactly and "rough and tumble" kind of gal. (The thought of participating in a mud run terrifies me.) On the other hand,  I love toting around bad-ass looking gear and this page suited me just fine. The GoPro Hero camera in particular gives me the "I wants!"

Brett Hoebel Workout
I don't want to make y 'all jealous but I had the opportunity two summers ago to interview Brett Hoebel for Fit Bottomed Girls and he was really cool. Brett is a kick ass instructor (you probably know him best from The Biggest Loser) and he created a quick "do-anywhere" workout here that you can just knock out just about—well, anywhere.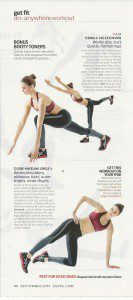 And now the rest of the best of this issue of Shape:
"Breathe Your Way Better" Shape offers advice on how to gain more energy and mental clarity by learning to breathe better. (Yes, you just might be breathing incorrectly!)
"Play Dirty" So I may not been very rough and tumble but let's say you are and you want to try an obstacle course run just for poops and giggles. You will need the check list on what to bring created in this feature to send you on your way.
"Get Slim Without the Gym" All sorts of outdoor workouts are featured in this section which covers sandy environments hilly places and those of you who are somehow surrounded by lots of stairs.
Follow Shape magazine online at: www.Shape.com
Overall Grade:
A I really enjoyed this issue as it had tons of workout pages and good advice. Win/win people!
(If you are reading this on a different site or a different feed than Brooklyn Fit Chick, it has been taken without permission.)
Until next time…
Ox Ox,
BFC
Brooklyn Fit Chick
Follow me on Twitter: "BrooklynFitChik" (note the spelling!)
Instagram: BrooklynFitChick
Pinterest: BrooklynFitChick
You Tube: BrooklynFitChick1