Brooklyn Fit Chick Vlog: Episode 68
Featuring: A Vertigo Incident, My New Ambassadorships with Terry Bicycle and MaxFlowSports
Plus Final Reminder: NYC Healthy Blogger Brunch (Saturday, January 25th in Park Slope, Brooklyn)
Hey there! Hi there! Whoa there!
This past week I had a rather scary incident with vertigo. Well it lasted for almost three days so "incident" might not be the best way to describe what happened to me but on Monday morning I was teaching my usual core class at 8 am. There have been times in the past when I felt some dizziness when lying completely flat on my back (supine) or if I reached to the floor quickly when doing an interval move. Nothing crazy—but just a moment of feeling off balance and having to redirect myself that would happen from time to time.
This past Monday I was demonstrating a move on my back when all of a sudden I felt as if the room was spinning around me and I was completely disoriented. Hoping to just "snap out of it" I kept on talking and trying to reassure myself that everything was fine but after about 30 seconds I realized this was beyond a momentary sensation.
Turning my head to my "good" side I made eye contact with one of my students and said "please come over and help me." Ten minutes later I was driven home by two friends who told me to make sure I eat something and get some rest. ("Must be your blood pressure!" offered one of my students.)
However deep down I knew differently–this was a BAD incident. It was not going to go away quickly either.
Two hours later I woke up from a nap with the dizziness still hanging on and my nerves completely frayed. Eventually I was able to walk to my pharmacist to get some Dramamine which helped somewhat but the symptoms lasted most of the time every single day until Thursday when I was finally able to see my brand new doctor with my brand new Obama-care insurance. (In fact, my insurance card arrived that very day.)
Turns out my inner ear canal was infected which aggravated the vertigo and ear drops helped alleviate many of my symptoms (along with a prescription for Meclizine.) I was even able to teach my classes on Friday & Saturday morning (off the bike and very much upright without too much motion) and am feeling better every day.
But now I must begin the process of finding out exactly what type of vertigo I have (there are several) and what I need to do (hopefully) prevent future "tumbles."
Based on my symptoms so far I believe I have the following type of vertigo:
Benign Paroxysmal Positional Vertigo (BPPV)
From the Mayo Clinic Staff:
"Benign paroxysmal positional vertigo (BPPV) is one of the most common causes of vertigo — the sudden sensation that you're spinning or that the inside of your head is spinning.
Benign paroxysmal positional vertigo is characterized by brief episodes of mild to intense dizziness. Symptoms of benign paroxysmal positional vertigo are triggered by specific changes in the position of your head, such as tipping your head up or down, and by lying down, turning over or sitting up in bed. You may also feel out of balance when standing or walking."
What this means is that I will learn to do a series of exercises at home to get the ear crystals back in place that are floating around like freaks on a party boat right now. I am most hopeful this will work and secretly dread it could happen again while I am either driving, on the subway or just out in public and not in a safe place to be helpless.
But I know that I am also a badass and can take on any challenge in front of me. So I will keep you all up-to-date on my progress but if you know anything about vertigo—please reach out and let me know what you experiences have been and what works for you. I want to hear from you!
And now, cat photo time!
Now on to this week's insanely happy news: (Drum roll!)
Terry Bicycles Ambassadors:
After months of reaching out and talking back & forth I can finally announce that I am a Terry Bicycles Ambassador! Whoo hoo! If you are not familiar with them—Terry makes some of the best cycling gear for women and I have been a fan of their for many, many years. I am beyond thrilled to help introduce them to a whole new audience of active chicks who want to look cute while staying safe on their two-wheelers. I will be writing a regular column for their monthly newsletter as well and will be sure to post them on my Facebook and Twitter page.
In the meantime, be sure to follow them on Twitter, Facebook and Pinterest.

MaxFlowSports:
Also, I was recently contacted by a new company called MaxFlowSports that creates some of the best (and secure) headbands on the market for men and women to keep you hair back and still look good.
Created by Steve Hines, these headbands are made with a "cross-grip" technology to stay in place on the top of your head no matter what workout your are doing. I cannot tell you how crazy it makes me to keep pulling on my headband into place when I am teaching. These hairbands work great and I am happy to call myself one of their new brand ambassadors.
Be sure to follow them on Twitter, Facebook and Pinterest.
And if you would lie to try one and live in New York City—they will be included in the goodie bag at my Super, Super Brooklyn Blogger Brunch!

The New York City Health & Fitness Bloggers Brunch! Park Slope, Brooklyn (Saturday, January 25th)
I have mentioned this a million times already but if you want to attend the bunch set for THIS SATUDAY than please leave a message in the comments and I will get in touch with you.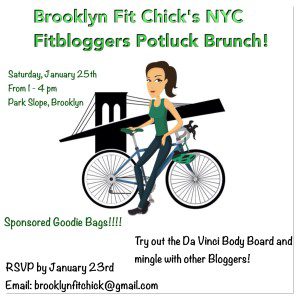 In the meantime—here is this week's Vlog post:
That's it for today. Be sure to come back tomorrow as I will have a new giveaway! (Can't say what it is but it's pretty damn cool!)
Ox Ox,
BFC
Brooklyn Fit Chick
Follow me on Twitter: "BrooklynFitChik" (note the spelling!)
Instagram: BrooklynFitChick
Pinterest: BrooklynFitChick
You Tube: BrooklynFitChick1