What Did We Learn This Month?
 Health
May 2015
Health Cover Star for May:
The cover star for May is none other than Tracy Anderson who runs her own studios in Los Angeles, New York City and the Hamptons along with her own soon-to-be video streaming service called Real Time with Tracy. The way it will work is each week Tracy will create a workout and offer notes for you to practice before your next session to gradually build your body into a Tracy Anderson-created lean sexy machine. A new workout will go up every Wednesday and the  projected cost will be $80 per month.
I will let that sink in for a minute.
If you are not familiar with Tracy she is one of Gwyneth Paltrow's favorite trainers and people pay BIG bucks to take her classes in person. I own a few of her DVDs and let me tell you—her leg routines are KILLER!
Tracy is the mom to two kids (Sam, 16 and Penelope 2) and is trying to project good, healthy habits to her family. She hates spinning (the movements are too repetitive) and thinks juice cleanses are a big waste of time.
You can see some of her workout here: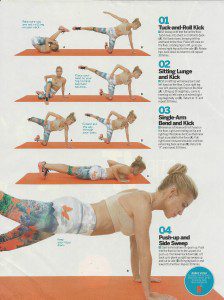 So what else is inside the May Health?
"9 Trainers you'll Love on Instagram"
Health picked the best of the best to follow for advice and inspiration on Instagram.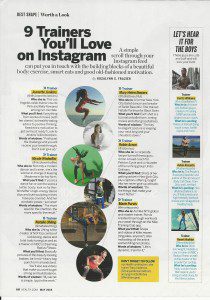 "Is Your Tech Style Hurting You?"
With most of us leaning forward to look at our computer screens and mobile phones it is causing pain in the neck, back and shoulder region or is otherwise known as "text neck" in some circles.
Here we get advice on how to better read our tablets, phones and laptops that while not a perfect solution—will help alleviate painful symptoms from arising.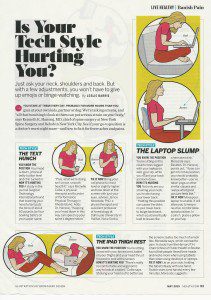 And now the rest of the best of this issue of Health:
"Your Breasts: A User's Manual" It is predicted that the diagnosis of breast cancer will rise 50% by the year 2030 so now is a good a time as any to get to know

yours

better!
"You Could Save a Life… Even Your Own" With the warmer & sunny weather coming along (finally!) it means more exposure of the skin to the sun which means an increase in the possibility of skin cancer. (Yikes—more cancer talk!) Look at this feature to get an idea on what kinds of moles are okay and which to be on the lookout for over the next few months. (Really—you should get a checkup every year.)
Follow Heath online at: www.Health.com
Overall Grade:
B This issue was kind of lacking for me this month. A couple of good features but I wish there were more workouts included.
(If you are reading this on a different site or a different feed than Brooklyn Fit Chick, it has been taken without permission.)
Until next time…
Ox Ox,
BFC
Brooklyn Fit Chick
Follow me on Twitter: "BrooklynFitChik" (note the spelling!)
Instagram: BrooklynFitChick
Pinterest: BrooklynFitChick
You Tube: BrooklynFitChick1