What Did We Learn This Month?
 Women's Health
December 2013
Women's Health Cover Star for December 2013: 
Drew Barrymore is on the cover and being her usual, lovely self. (One of my favorite movies of all time is the first Charlie's Angels—a classic!)
Her wild and crazy behavior of the 90s (which if you look at it now–is NO big deal at all) belied a very smart mind and Drew is now a film producer for her own production plus the creator of the cosmetics line Flower. In this issue she talks about mixing high & low makeup brands to get a shimmering look.
So what else is in the December issue of Women's Health? 
15-Minute Workout "Pack a Bandmate"
Jim Smith of Diesel Strength & Conditioning shows how to get an overall body conditioning workout in just 15 minutes using a heavy band.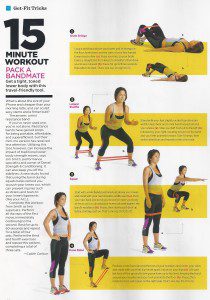 "Fast Track Your Results"  
If you are looking for a fit tracker to get in shape–be sure to check out this page first to see what is out there as well as the best tracker to fit your lifestyle.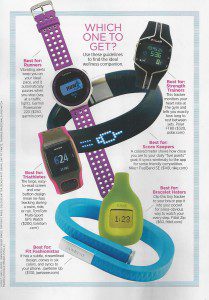 "Jump for Your Joints"
For those with knee issues—here we get a series of exercises to strengthen your joints. They were offered to Women's Health from Tim Hewett Ph.D., Director of The Ohio State University Sports & Health Performance Institute.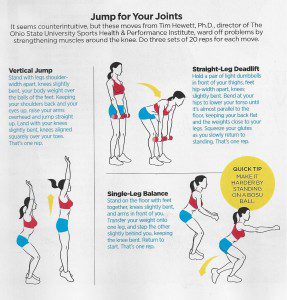 "Strong is the New Sexy"
Are you ready to lift some heavier weights and get that body into stringer shape? Well try out these badass moves from Kellie Davis, co-author of Strong Curves: A Woman's Guide to Building a Better Butt and Body. (Lift those weights ladies!)

Women's Health Holiday Gift Guide:
Looking for ideas to put on your wish list? Look for this page featuring fun gym-y kind of things for "Workout Junkies!"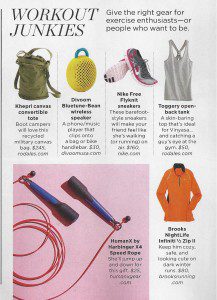 And now the rest of the best of this issue of Women's Health:
"Domestic Terror" True stories of women being abused by their husbands and boyfriends and tips for getting the hell out of a violent relationship.  (Get help if you need it!)
"Blogging: You the Instant Expert" Are you looking to start your own Blog? This feature is really helpful on how you can get started.
 "I Survived Being Snowbound in a Car" Women's Health talked to Paula Lane was trapped in her car in the Sierra Mountains with her boyfriend for several days and barely made it out alive. Unfortunately, he did not make it out with her. This essay really got to me.
Overall Grade:
A!  Extra good workouts in this issue made me all kinds of happy!
You can check out Women's Health online as well: www.WomensHealthMag.com
Until next time…
Ox Ox,
BFC
Brooklyn Fit Chick
Follow me on Twitter: "BrooklynFitChik" (note the spelling!)
Instagram: BrooklynFitChick
Pinterest: BrooklynFitChick
You Tube: BrooklynFitChick1