What Did We Learn This Month?
Recaps of Bicycling, Muscle & Fitness Hers and Prevention
Hey there! Hi there! Ho there!
My magazine stacks are getting sky high but I am determined to get these out to you people so hang on to your knickers everyone and let's get to it!
Bicycling: June 2013
"Eat to Ride" Bicycling editors offer tips on how to survive all of those summer rides by fueling properly.
"Aprés Ride" French for 'after' ride and this page is all full of fun items for guys and gals after a day on the road.
"Feed Your Thirst" Foods that are "water-rich" and will help you stay hydrated all day.
"City Guide: Washington DC" Oooh, I have had a yen to travel to our nation's capital lately and this guide made me all kinds of curious about riding there.
"Senseless" I feel very strongly about everyone wearing their helmets wherever they ride (even on grass!) but I was not aware of the fact they do not protect you from concussions. Ruh oh! Get on that safer helmet makers!!
"Lift Off" Have you heard about biking trips where they take you up a mountain and you basically live the high life the whole time? Anyone want to take me along? I will be a quiet roommate—I promise!
"Up to Me" As an instructor I am all about getting my students to climb and strength train on the bike and this article reminds me why I love heading up the hills outside the classroom as well.
"The Gold Standard" The eight "Extraordinary Bikes" of the year as chosen by the editors of Bicycling.
Check out Bicycling online here: www.bicycling.com
Muscle & Fitness Hers: May/June 2013
"Must-Try Move… Strong, Beautiful Back" Advice on how to make your back sex-ay and strong from Alicia Harris Ross (IFBB Figure Pro,) Dana Linn Bailey (IFBB Physique Pro) and Jelena Abbou (IFBB Figure Pro.)
"Pear-Shaped Peril" Being pear-shaped can be dangerous to your health if you do not watch what you eat. (Check out page 34 for more information.)
Yeshaira Robles: Here we get a day-in-the-life of the IFBB Bikini Competitor who has an adorable daughter and a boyfriend with guns the size of watermelons.
"The Secret to a Killer Core" IFBB Bikini Pro Jessica Plaxson is the star of the pull-out workout for your abs and back. (She is also on the cover suckas!)
"Ridiculously Healthy Burgers" These recipes made me go 'nom nom' out loud.
"Hello Gorgeous Glutes" You want to raise your booty a little higher? Try out these moves from IFBB Figure Pro Larissa Reis.
Drita D-Avanzo: Thank you Muscle & Fitness Magazine Hers for featuring my favorite "Mob Wife" in your publication. She is a shoe-throwing badass and I love her!
Check out Muscle & Fitness Hers online here: www.muscleandfitnessher.com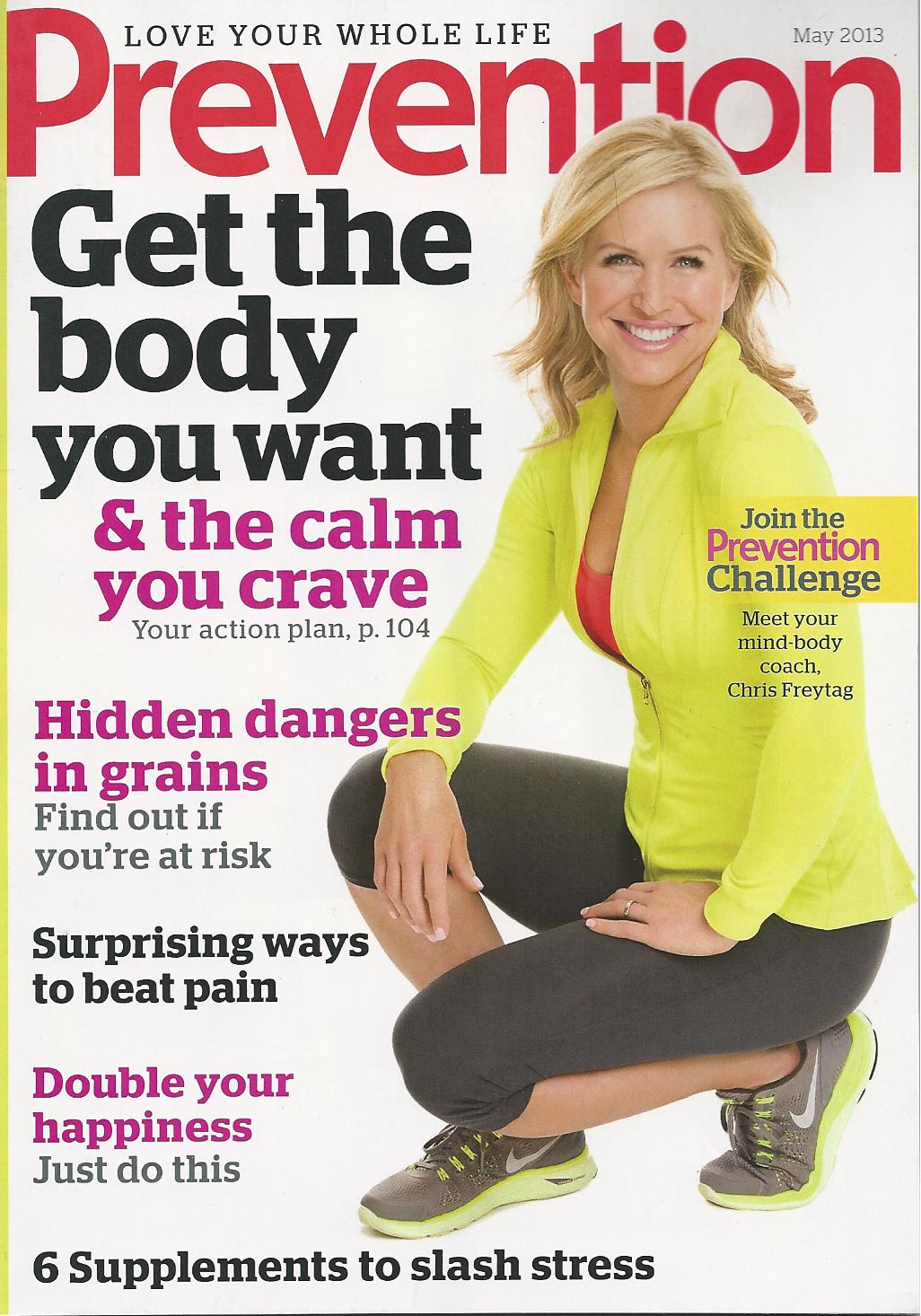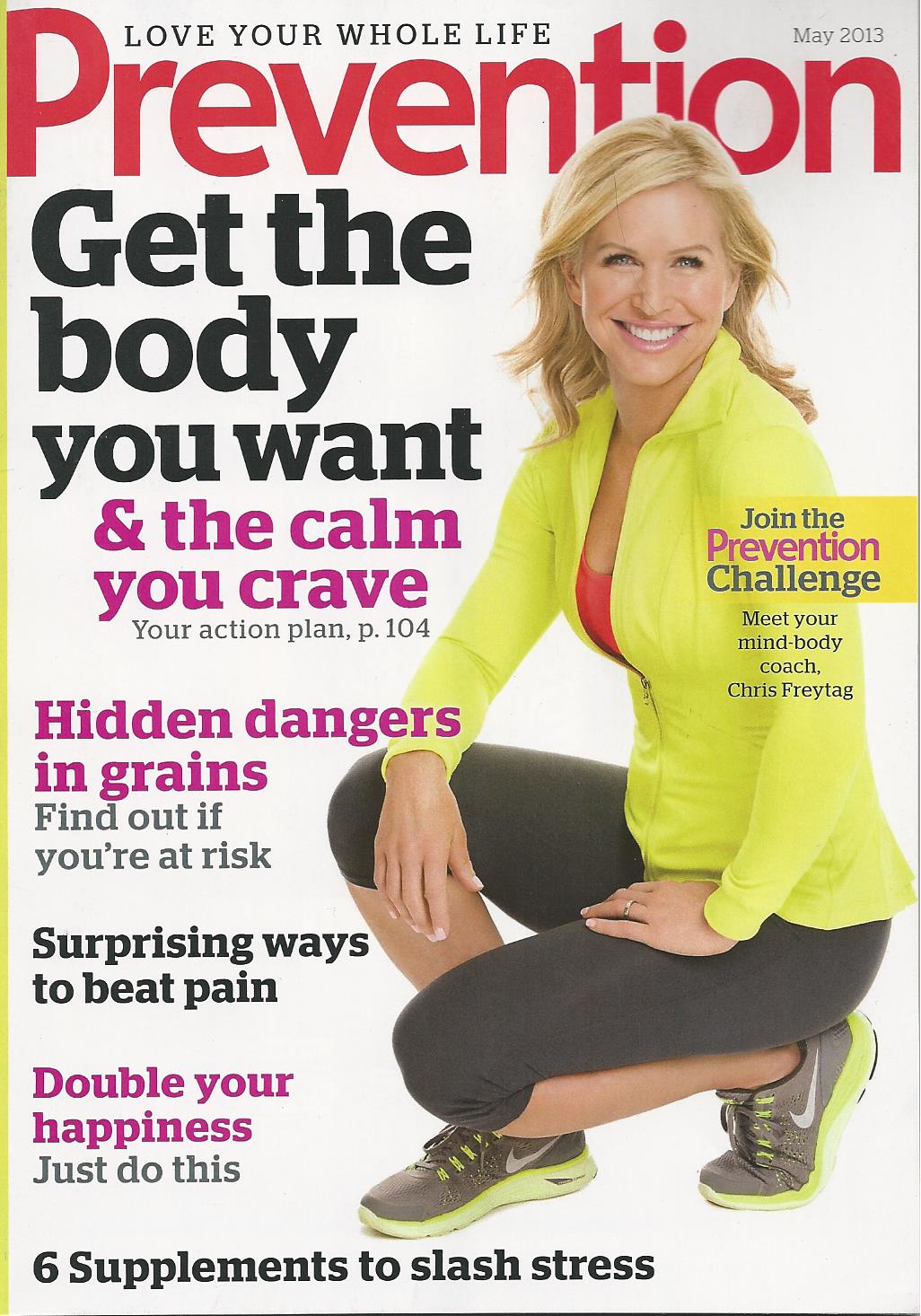 Prevention: May 2013
"The Unexpected Face of Depression" Men's depression can be misdiagnosed as an anger management issue. The signs of depression to look for with the men in your life.
"In Her Right Mind" Holy sh*t! This article about a Harvard scientist who came back from an almost completely debilitating stroke. A must read!
"New Ways to Beat Osteoperosis" It takes more than calcium to make strong bones—check out this feature to find out what you need to do to stay healthy and strong in your bones.
"The 7 Habits of Highly Effective Skin Care" Advice on how to keep your skin safe in the summer season.
"Your Transformation Challenge" Prevention gives you a 4-week (28-day) plan to get you as healthy as possible with trainer Chris Freytag as their resident expert.
"Is This What is Eating You?" The South Beach Diet creator Dr. Arthur Agaston talks about gluten intolerance and the "hidden danger of grains." (His newest book is called The South Beach Diet: Gluten Solution)
"Get Moving, Get Better" When your joints are aching it can be easy to tell yourself to slow down and not work out so hard. However, experts are finding out that your ailing knees could benefit from a tough workout.
Check out Prevention online www.prevention.com
So that is all I have for today folks. Have you read of these magazines this month? What did you think? Let me know!
Until next time!
Ox ox,
Brooklyn Fit Chick
(BFC)
Follow me on Twitter: @BrooklynFitChik (note the spelling!)
Friend Me on Facebook: "Brooklyn FitChick"
Instagram: "margodono"
You Tube: "BrooklynFitChick1"