BROOKLYN FIT CHICK'S PLAYLIST
"If So"
 (50-minute Ride)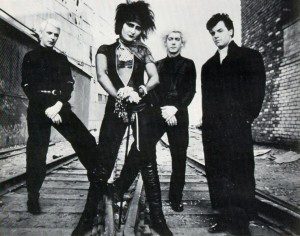 Hey there! Hi there! How there!
This week I present my newest playlist which features a "climb"  with one of my favorite songs of all time by Siouxsie & The Banshees and ends with an 80s pop gem. Intrigued? Well then, let's get to it!
If you are not familiar with Atlas Genius—they are an Australian pop rock band and they write some catchy tunes. Check them out!
Ch Ch Ch Check it Out: Beastie Boys
(RIP MCA)
This is my number one favorite Doors song and I actually took a picture of Jim Morrison's notebook at the Rock and Roll Hall of Fame because it allegedly contained the original lyrics.
Kiss Them for Me: Siouxsie & The Banshees
I am reminded of my San Jose State days when I hear this tune. If you will allow me to indulge—I have a couple of videos for it. Let me know what you think!
Tame Impala is pretty big back in their native Perth, Australia.  (Another Aussie band!)
Sweet Disposition : The Temper Trap
One of my students absolutely LOVES Sweet Disposition so I made sure to include it on my list this week.
Who doesn't love Robert Smith? This song puts me into such a great mood.
My friend Jennifer is the biggest Jack White alive and has travelled to several continents to see him play live. She is super cool in my book.
The Pit: Silversun Pickups
This song is fantastic for sprints and quick intervals.
Ridin: Chamillionaire & Krayzie Bone
"They see me rollin'—they hatin'…."
How You Like Me Now: The Heavy
No this is not a James Brown tune but it could have been!
I Just Can't Get Enough: Nouvelle Vague
Why aren't there more Portuguese bands singing bassa nova versions of New Wave songs?
I Can't Go For That: Hall & Oates
Take the time to really listen to this song because it is wicked awesome.
That's all I have today folks. Let me know about some of your favorite songs. I am always looking for good tunes.
Until next time…
Ox Ox,
BFC
Brooklyn Fit Chick
Follow me on Twitter: "BrooklynFitChik" (note the spelling!)
Friend me on Facebook: "Brooklyn FitChick"
Instagram: BrooklynFitChick
You Tube: BrooklynFitChick1